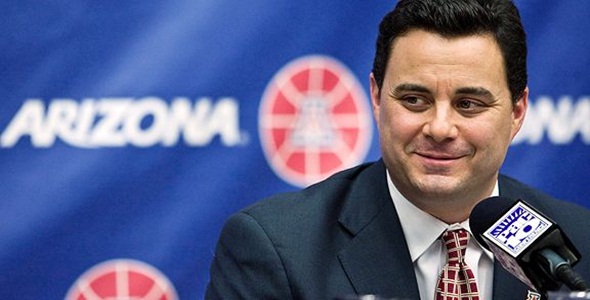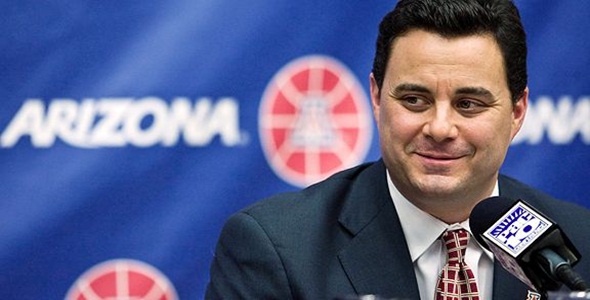 October 26, 2010 – Allen Moll
After the highly successful Lute Olson led era of Arizona Wildcats basketball came to an un-ceremonial end following the '06-'07 season amidst recruiting violations and Olson's deteriorating health concerns, the once proud program was in need of a fresh start. And after two lackluster seasons under interim coaches Kevin O'Neal and Russ Pennell, where the team's 25 consecutive years making it into the NCAA Tournament was broken, many questioned the hiring of former mid major success story Sean Miller from Xavier.
Arizona had been on top of the NCAA hoops universe for the better part of the previous 25 years, annually churning out NBA players like Sean Elliot, Chris Mills, Andre Iguodala, and Steve Kerr. The program under Olson even earned the nickname "Guard U" after earning a reputation for developing NBA ready guards like Damon Stoudemire, Mike Bibby, and Jason Terry. Then in one fell swoop came the abrupt retirement of a coaching icon and those terrible recruiting violations which resulted in a self imposed penalty of loss of scholarships in the near future.
All of that hasn't stopped now 2nd year coach Sean Miller, who even though they missed the post-season for the first time in 25 years, has the Wildcats poised to make the jump back to respectability, and with a little luck, a place where they are accustomed to: the National Championship discussion.
It all began last season with Miller landing a Top 20 ranked recruiting class, led by highly touted freshman Derrick Williams, who would go on to win the PAC-10 Freshman of the Year Award. Williams turned out to be the cornerstone of Miller's rebuilding plan, solidifying the front-court by averaging an impressive 15.7 ppg and 7.1 rebs to lead the Cats. And even though they finished a disappointing 16-15, including a 4th place finish in a down PAC-10, the future looks bright for Miller and the Wildcats, beginning with next season.
The main reason for all the optimism is Miller's ability to once again lure in top 100 talent into the program. The Cats will rely heavily on a trio of talented sophomores led by Williams, Solomon Hill, and Kevin Parrom, in addition to highly touted incoming freshmen like Top 100 rated Daniel Bejarano and Jordin Mayes. Where it really gets interesting is for the '11-'12 season, where Miller has secured a Top 10 Class led by 2 Top 30 rated guards Josiah Turner and the underrated Nick Johnson, along with the multi-talented Top 50 rated big man Sidiki Johnson.
The only problem Miller may run into in the the upcoming seasons is finding enough scholarships for all of the top tier recruits who want in on the program. What a great problem to have. But just maybe things can work themselves out, like if PAC-10 POY candidate Derrick Williams decides to go pro following this season. Maybe the Wildcats can start another string of consecutive NCAA Tourney appearances?
Check out elite level 2011 Arizona commit Nick Johnson in action this Summer:
Allen Moll has been a lifelong NBA and NCAA College Basketball fan who watches and studies games religiously, and coaches youth basketball in his native Lehigh Valley region of Pennsylvania.  Allen also provides content to Bleacherreport.com, Upperdeckblog.com, in addition to being a tenured NBA and NCAA columnist for TheHoopDoctors.com.