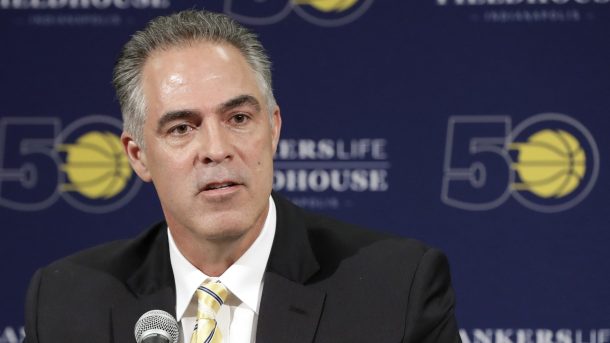 Sometimes life give you lemons, as the old addage goes, it is best to attempt to turn those lemons in lemonade, not haterade or Spite, an imitation citrus soda and the petty knock off of Sprite (that I just made up) as the Pacers have done with the Paul George situation.
I get where Indiana is coming from, they built their franchise around Paul George and were willing to do whatever it took to appease and build a winner around him, but he still opted for greener (or glitzier in this case, wanting to be a Laker) pastures, a big problem for every small-market team and non-destination NBA city.
It is hard to get over that, I mean look at the extremely unprofessional, embarrassing and foolish letter that Dan Gilbert wrote when LeBron James left for Miami in 2010 (Gilbert is the luckiest man on earth, I am convinced).
When that moment comes though there is really only one logical and prudent thing to do, blow it up, start from scratch and sell off your star to the highest bidder with young talent and draft picks.
That is not what the Pacers did on Friday in trading for Victor Oladipo and Domantas Sabonis.
Paul George apparently made it clear to the Pacers organization before the 2017 NBA trade deadline that he would not re-sign with the team when his contract expired in 2018. Reports were corroborated that the Atlanta Hawks offered the Pacers four 1st round draft picks for George in February.
The Celtics offered three first round draft picks, although not the 2018 Brooklyn pick (what are you waiting for Danny Ainge?) Avery Bradley and Jae Crowder for George. Bradley is a young asset on a cheap contract, and a better player than Oladipo at this point and Crowder is also on an insanely cheap contract.
There was a three-team deal in place that would have sent a promising, young and cheap shooting guard in Gary Harris and 1st round draft picks that would have landed Kevin Love in Denver and George in Cleveland.
The Lakers were offering the No. 27 and No. 28 pick in the 2017 NBA Draft, Julius Randle and Jordan Clarkson (if the Pacers wanted him) for George.
You can bet the Nuggets and a team flush with assets like the Suns offered a king's ransom for George around the trade deadline as well.
Instead of taking any of the better deals on the table, the Pacers acquired a talented but not star player in Victor Oladipo at $21 million per season for the next four seasons (more than they were paying Paul George) that won't really move the needle. This may make it harder to completely bottom out and land in the top five of the NBA Draft lottery, where by the numbers you typically need to be in order to land a potential star in the cheapest way possible for the longest amount of time, the best and usually only way for a small market team to acquire a star player.
While there have been worse returns in the past for a superstar player, trading one for a non-star player making near max money to prevent any cap flexibility creation and no future draft picks is not maximizing your return and positioning yourself to attempt to acquire another star to build around a pair with a potential young star in Myles Turner in the near future.
Kevin Pritchard and the Pacers make a decision not to trade Paul George to an eastern conference rival or the Lakers out of spite, which is not the best way to operate in the mercenary and extremely competitive business that is professional sports.
They couldn't take the emotion out of the decision, and it may end up hurting them.