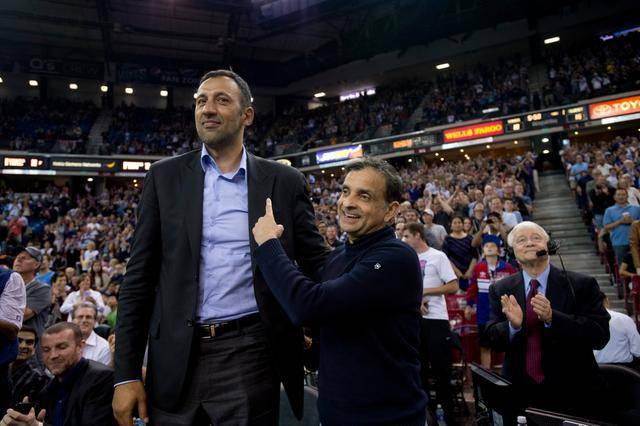 Hello! Welcome to this space, where we will now confirm everything you suspected about the DeMarcus Cousins trade.
Yes, the Sacramento Kings could have done better than Buddy Hield, Tyreke Evans, Langston Galloway, a top-three protected pick that probably won't land in the top 10, and a second-round pick (via the Philadelphia 76ers! But still.). General Vlade Divac said as much:
Yep, Vlade actually said this. pic.twitter.com/CEW7aynAZ2

— Dieter Kurtenbach (@dkurtenbach) February 20, 2017
Wait, it gets worse.
The Vertical's all-knowing Adrian Wojnarowski said the Kings' front office intentionally rushed the trade, in order to prevent owner Vivek Ranadive from changing his mind (transcription via NBC Sports):
They wanted to do this deal before Vivek Ranadive changed his mind again. This talk about this new list of transgressions by Cousins over the last few weeks — the incident with the Golden State fan, the technical fouls now that it turned into suspensions — these were very consistent with what's gone on. These weren't new. Now, they used that to say, "Well, we just decided we couldn't go forward with him." Management, the front office, they've wanted to trade him for a very long time. And they could not get Vivek on board. Once they had Vivek on board, they didn't want him to change his mind again. A, that was part of the reason they rushed on Sunday to get the deal done.
This sounds about right. It also explains why this trade seemed to materialize in an instant, almost solely over All-Star Weekend. The New Orleans Pelicans and Kings likely held exploratory talks in the past, but this got real serious, real quick.
And now we know why.
All those times Cousins has been in the rumor mill over the past couple years, maybe the Kings kept lining deals up only to have them quashed by Ranadive, who appears to operate under this illusion that his team, both with and without Cousins, is somehow traveling down the right path.