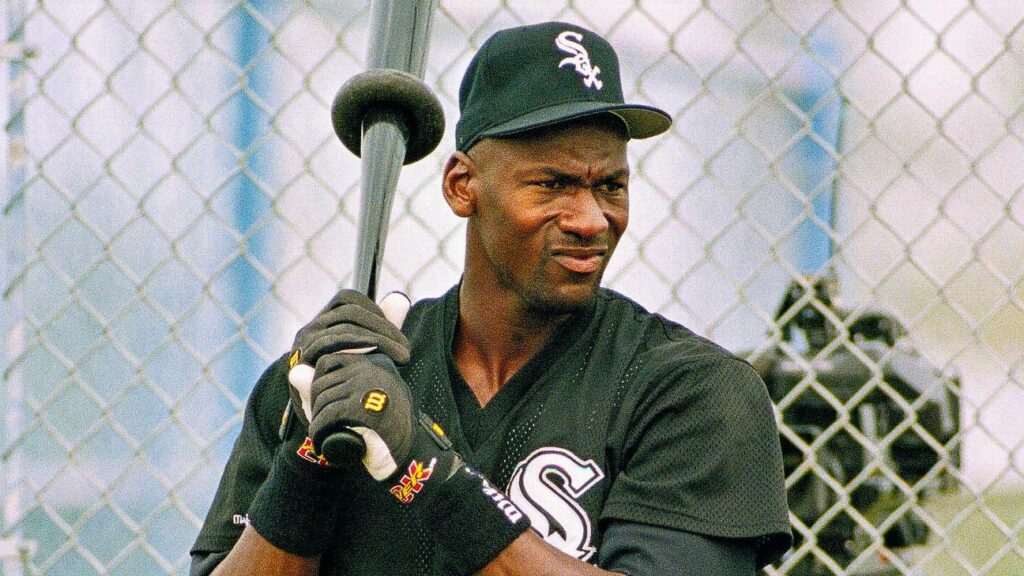 The ESPN/Netflix documentary 'The Last Dance' has been clearly one of the greatest sports documentaries ever made. I think back to documentaries such as 'hoop dreams' and other award winning documentaries that I used to hold in high regard. They pale in comparison to the emotion, inside access, and drama that this never before seen footage of the Michael Jordan Bulls of the 1998 final season 'The Last Dance'.
This week in episode 7 and 8 we got a greater glimpse into the mindset and emotional state of Michael Jordan after his father James' death, and the weeks and years following as he retired from the NBA for the first time, and made a go at his childhood dream of being a professional baseball player. Here are three important takeaways for me from the episodes.
1. Scottie Pippen was a leader in his own right, with a big lapse in judgment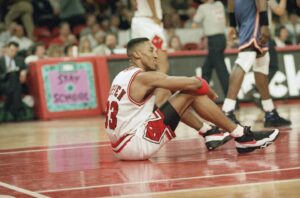 When Jordan left the NBA for baseball in the summer of 1993, many people thought the Bulls would fall apart and become a lottery team, or a low seeded playoff team at best. There were a lot of sites for analysis on placing bets at the time that had the Bulls missing the playoffs. Not many in the media gave Scottie Pippen the credit he deserved. He wasn't just a wingman to the GOAT, he was formidable enough to carry a team on his own, and this was the time to prove it.
What episode 7 and 8 highlighted for me was that not only were the Bulls still a powerhouse in 1993-94, some new players coming in that summer likely benefited (based on personality) from the absence of a tyrannical leader in Jordan, and instead the soft and supportive leadership style (lead by example) that Pippen exerted.
However, as the Knicks series showed, with the series on the line in the final 1.5 seconds of a survival game, Phil Jackson drew up a play for his lethal rookie shooter Toni Kukoc, instead of his new leader Scottie Pippen. I get Scottie being pissed off, but refusing to go back into a game, and hanging his team out to dry with the season on the line, is sacrilegious for most athletes that have ever played a team sport. You just don't do that. ever.
So my big takeaway from the episode was that while Scottie had the talent to be an all-NBA player and leader of a contender, he didn't have same commitment to winning that Jordan had. Jordan was ruthless, no way he would have sat out. More likely he would have called an audible and ignored the Coach's decision and shot it himself.
2. James Jordan was Michael's Friend and Confidante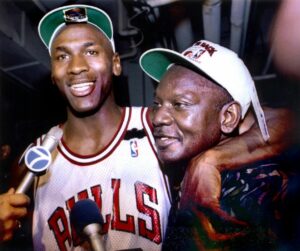 There aren't many championship moments caught on film of Michael Jordan in the first three championship seasons where you didn't also catch a glimpse of his father James Jordan.
I admit also remembering and being curious as a young NBA fan at the time about whether or not James Jordan had unsettled gambling debts leading to his murder. What I didn't recall was that the case was quickly resolved with the arrest of two 18 year old men who admitted to robbing James Jordan at gunpoint and killing the man. In hindsight the accusations by the media that it was related to MJ's gambling tendancies seems even more brutal.
Those engaged in spreading those lies in the media should be ashamed of themselves now in hindsight. However my biggest takeaway from the episode was how many times Jordan refers to his Dad as his best friend and confidante. You have to imagine when you are an icon as famous as MJ, your world gets a lot smaller, to the point of needing to be a shut-in. Sharks are constantly circling. So the importance of confidante is that much more meaningful.
Taken in context you realize just how important Jordan's father really was to him. Making it so much more obvious why Jordan retired from the game to pursue his and his father's dream for him, to be a professional baseball player.
3. MJ's foray into baseball may have resulted in the major's if not for the MLB strike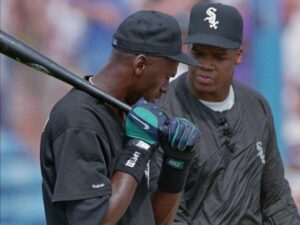 We all remember Jordan's first year with the Barons in the AA minors as a circus of media. I did clearly remember him starting the season off strong, then having a long slump where he was dogged by the media for making a mistake.
I even recalled him putting in Jordan-esque work ethic and turning the season around with a well televised out of the park home run and some great hitting to close things out.
However what was lost on me at the time was just how much improvement Jordan had made in his game and his physique to become a legitimate ball player. Hearing Reinsdorf talk about how if Jordan had more time in the game he would have certainly become a Major Leagues player was interesting. When you think about it, he only really need to get 'close' to the skill of the top prospects, because if anyone was to be selected and it was even close, any Manager in the Major's would want Jordan for the marketing aspect of the game. He would fill the seats every single game, and sell out merchandise like no other ball player at the time. And since that didn't happen, we now know Will Smith may take a crack at letting Jordan fill the seats at every movie theatre on the subject….
What did you think about episodes 7 and 8? What were your main takeaways?