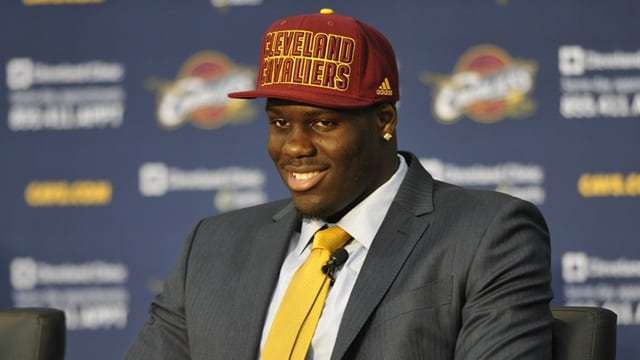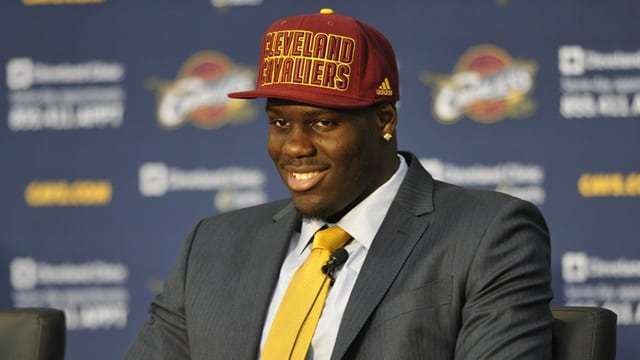 Being selected in the NBA draft is quite an achievement, but as many players and executives learned the hard way, it's no guarantee of a long and prosperous NBA career. Quite a few players who don't make it in the league are quickly forgotten, but not all of them. Those who manage to earn the dreaded label of "bust" are remembered, usually for all the wrong reasons. This list by HOOPSBEAST takes a look at some of the biggest draft busts since 2000, in no particular order, examine why they failed, and what they're doing now.
Darko Milicic – No. 2 overall pick, 2003 draft, Detroit Pistons
The 2003 draft class is often said to be one of the strongest draft class of all time, and having a high pick that year meant that you would almost certainly get yourself a franchise player. The Cavaliers, to the surprise of absolutely no one, took LeBron James with the first overall pick. When it was time for the Pistons to make a selection, players such as Carmelo Anthony, Chris Bosh, and Dwayne Wade were still on the board. The Pistons instead drafted a Serbian center named Darko Mili?i? with the number 2 overall pick. The pick was applauded at the time as Darko, who was hyped up as a phenom, looked very impressive in his pre-draft workouts, and many scouts at the time agreed that he should be the no. 2 pick.
Darko would go on to spend 10 seasons in the NBA playing for 6 different teams, but he was nowhere near the player everyone expected him to be as he averaged just 6 points and 4.2 rebounds for his career. As an 18-year-old, he failed to handle the burden of expectations that were placed upon him. His lack of maturity, excess of ego, and lack of work ethic would ultimately be his undoing. Darko himself admitted these things in an interview with Serbian media a few years ago, and he has fully come to terms with his NBA failure.
Following his NBA retirement, he tried to become a professional kick-boxer, but he lost his only official fight. Today he lives a mostly quiet life as a farmer in his native Serbia. He owns an apple orchard where he said he has found his inner peace and happiness.
Nikoloz Tskitishvili – No. 5 overall, 2002 draft, Denver Nuggets
After seeing what Dirk Nowitzki was becoming following his rookie season, NBA teams were scrambling to find the player who would be the next Dirk. Many foreign prospects were labeled as "the next Dirk", and teams were using high lottery picks to get them. Some, like Kristaps Porzingis, lived up to the hype, while others, like Andrea Bargnani, were huge busts. Nikoloz Tskitishvili falls squarely in the latter category.
He saw little play in Europe before the 2002 draft, but scouts and executives loved what little they saw. He was hyped as a skilled seven-footer who could shoot the ball and was bursting with potential. The Nuggets drafted him on that potential alone in 2002. However, once the season started, all the red flags that scouts ignored up until that point started coming up. He was not ready for the physicality of the NBA game, he was too raw and could not defend. Worst of all, his shooting failed to translate as well, as he made just 24.3% of his three-pointers in his rookie season.
His career averages were just 2.9 points and 1.8 rebounds per game, and after playing for 6 different teams in 4 seasons, he was out of the NBA. Following his NBA exit, he played professionally in Spain, Greece, Italy, Iran, and Lebanon for a total of nine years. In late September 2015, he attempted to make his NBA comeback by signing with the LA Clippers, but they would wave him just 10 days later. Following this failed comeback, he had stints with teams in China, Japan, Lebanon, and his native Georgia. Ultimately, he would return to Lebanon, where he still plays professionally to this day as the starting center for Beirut Club.
Anthony Bennett – No. 1 overall pick, 2013 draft, Cleveland Cavaliers
The 2013 draft class was not considered particularly strong by scouts and executives, but it did give us some very notable players down the line such as Giannis Antetokounmpo, Victor Oladipo, and Rudy Gobert. Despite the class' perceived lack of star power and depth, the Cavaliers surprised everyone by taking Anthony Bennet with the first overall pick, including Bennet himself.
He was a player stuck between two positions, small forward and power forward, and showing up to training camp overweight and out of shape didn't help his case. The coaching staff and executives in Cleveland started questioning his work ethic and his fit with the team, as he was finding no success at either the small forward or the power forward position.
He spent each of his 4 NBA seasons on a different team until he was waived by the Nets in early 2017. With no other team willing to give him a contract, he was out of the league. Fenerbahçe, a Turkish team that played in the Euroleague, eventually signed him on a 1+1 year contract. There he averaged just 1.2 points in 6.3 minutes per game, and he was released from the team after his first season. Currently, he is putting together solid performances for the Agua Caliente Clippers of the NBA G-league as he is still attempting to make his NBA comeback.
Adam Morrison – No. 3 overall pick, 2006 draft, Charlotte Bobcats
In his junior NCAA season, Morrison put together such dominant performances playing for Gonzaga that some scouts argued he should be the first overall pick in the 2006 draft. He was not extremely tall or athletic, but he did have an incredible skill set and mental toughness few other players possessed. By the time the 2006 NBA draft came, people were calling him the next Larry Bird. This was enough for the Bobcats to take him with the third overall pick in 2006.
When the 06/07 NBA season started, Morrison was putting up decent scoring numbers for a rookie (11.8 points per game), but he wasn't the same shooter he was in college (only 37.6% from the field), and he had serious problems on defense due to his lack of quickness. He would miss his entire sophomore season due to a torn ACL, and the team traded to the Lakers in 2009. He did win two championship rings with the Lakers while averaging just 2.2 points in 7.3 minutes per game but saw no playing time in the finals. He was out of the NBA in the summer of 2010.
He would briefly play overseas in Serbia and Turkey, and he ultimately left his team in Turkey due to a lack of playing time. Following a decent NBA Summer League showing with the LA Clippers in 2012, Morrison attempted an NBA comeback and signed with the Trail Blazers in September 2012, but the team waived him a month later. Fortunately for him, his uncle helped him invest the money he earned in the NBA wisely, so he could support his family and not worry about bankrupting like many former NBA players. Out of the NBA for good, he tried his hand at coaching at Gonzaga, but he left that job because he wanted to spend more time with his kids. Currently, he's working as a radio analyst, and according to his own words, lives like a typical soccer-dad.