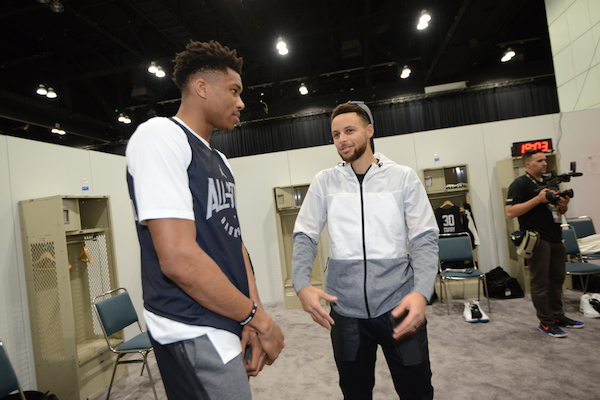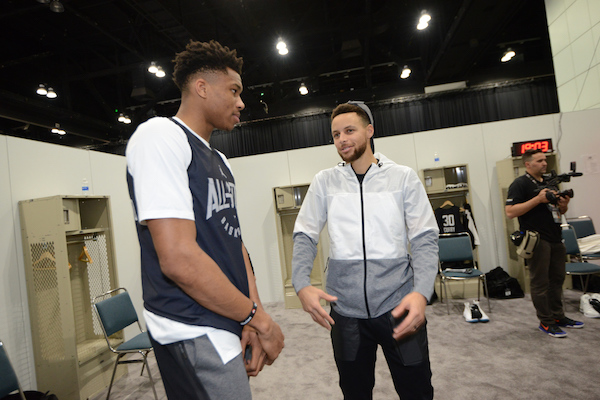 Stephen Curry is impressed at the way Giannis Antetokounmpo has evolved and improved over the course of his NBA career.
Don't you just love it when one of the three best players in the world shows respect for one of the five best players in the world?
Here's Curry's full comments on Antetokounmpo, per ESPN.com's Nick Friedell:
Steph on Giannis: "He's very unique … the way he's evolved over his career, gotten better every single year. He's just very unique and I think he owns his game. He understands how he can be impactful every night. He obviously plays extremely hard every night. Some of the stuff he does, your jaw drops. The way he can cover ground in a few strides, the way he can finish in the paint and all those type of things it's pretty special."
This might be the understatement of the century.
Antetokounmpo is beyond unique. He might even be more of a singularity than Curry, if only because of his height. To say he's "very unique" actually does a disservice to his off-beat skill set.
Still, Curry hits the essence of Antetokounmpo right on the head. A lot of people don't see his evolution because he still grapples with his jumper. But Antetokounmpo has progressed as a ball-handler, playmaker, finisher and defensive chameleon. He's also upped the ante on his footwork in almost every season. He might just be honing strengths at this point, but that's part of evolving and improving.
If he does ever happen to put together a league-average stroke from beyond the arc, well, then, the rest of the NBA is in serious trouble.