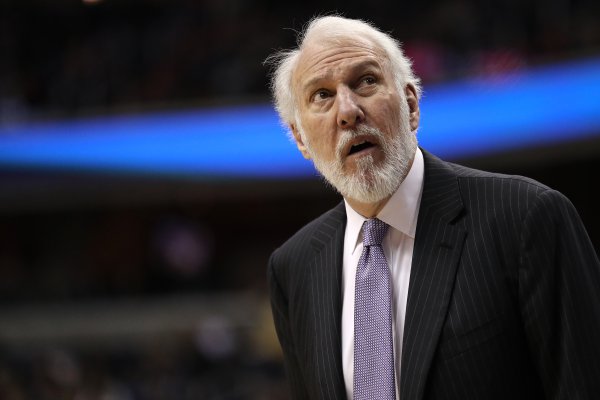 The end of Gregg Popovich's illustrious tenure with the San Antonio Spurs may soon be coming to an end.
Relax, he's returning to the sidelines next year. Probably the year after that, too. But beyond the 2019-20? Not so much. According to ESPN.com's Adrian Wojnarowski, those close to Pop do not believe he'll still be on the Spurs' sidelines after coaching the 2020 Olympic squad:
For now, the Spurs' future is on hold awaiting the Popovich-Leonard sitdown. How Popovich details his own coaching future to Leonard could be an interesting subplot of the conversation. Since the Spurs won their fifth NBA championship in 2014, Buford has had to be prepared for the possibility of Popovich, 69, coaching a final season and moving on to retirement. Every year, they need to make sure there will be one more season for Popovich. It's only natural, this deep into his career.

Few in his orbit expect Popovich to coach the Spurs beyond the 2020 Summer Olympics, and there always has been the possibility that he could spend the 2019-20 season traveling around the NBA and across the globe, preparing for his national team duties. Perhaps Popovich can have Leonard on Team USA in 2020, too, but that's a conversation for a different day.
Well, this stinks. At the same time, given his age, we always knew the end would be somewhat nigh. At least, as of now, it looks like we'll have the next two years to say goodbye.
Things take a turn for the really stinky if Popovich decides to take something of a gap year during 2019-20, in anticipation of the 2020 Olympics. Maybe he wants to travel, familiarize himself with living in Tokyo or something along those lines. That would be the worst-case scenario, since it ostensibly means he'd be done after this year.
It feels as if Pop wouldn't leave so suddenly. Then again, he could. Tim Duncan did. And Manu Ginobili will be done after next season, if he's not done already. He could view next year as the perfect swan song. We won't go there just yet; it's too painful. But it's worth thinking about. It's also worth wondering how the absence of clarity on his future impacts the Spurs' reconciliation process with Kawhi Leonard, as well as their pitch to prospective free agents.