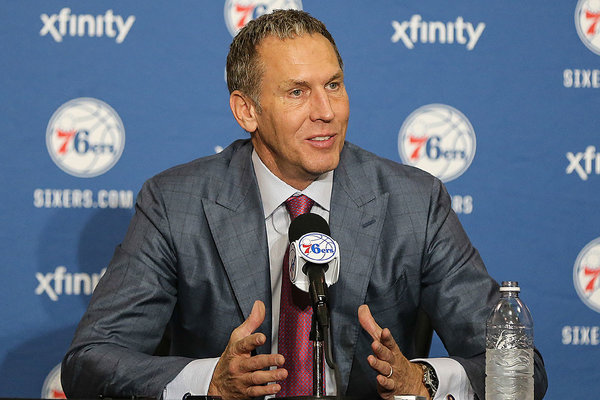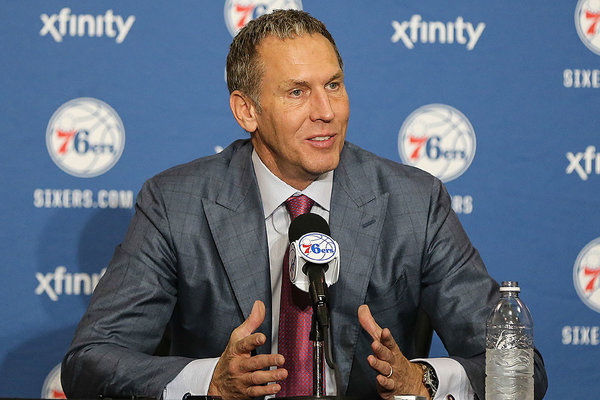 The Philadelphia 76ers are taking the social-media allegations against team president Bryan Colangelo seriously enough to launch an investigation.
On Tuesday night, The Ringer's Ben Detrick published an extensive report that pointed to the Sixers executive running five burner accounts on Twitter. Colangelo copped to being behind one of them, but he denies his involvement with the other four.
Read Detrick's entire piece. It's worth your time. This is such a 2018 scandal, but if the report proves authentic, then Colangelo's burners divulged confidential information at the expense of Jahlil Okafor, Joel Embiid, Nerlens Noel and Markelle Fultz. It also means he would have used said accounts to prop himself up while criticizing all of those players, along with former Sixers general manager Sam Hinkie and current Toronto Raptors president Masai Ujiri.
Nothing has been determined just yet. At this writing, the report isn't even 12 hours old. But the Sixers are ready to look into these allegations:
Sixers announce they have launched an official investigation into the allegations of Twitter misuse by GM Bryan Colangelo: pic.twitter.com/xNDEgQczq7

— Marc Stein (@TheSteinLine) May 30, 2018
Should the Sixers find out these were Colangelo's accounts, or should they be left doubting his word at all, he has to be out of a job.
No way, no how, can they justify keeping him on in advance of one of their most important offseasons ever. They have a ton of cap space and are hoping to garner consideration from the biggest names—including Paul George and LeBron James. Putting themselves in play to pitch said superstars becomes exponentially more difficult, if not flat-out impossible, in the event your lead executive is believed to be a self-serving social-media minion.