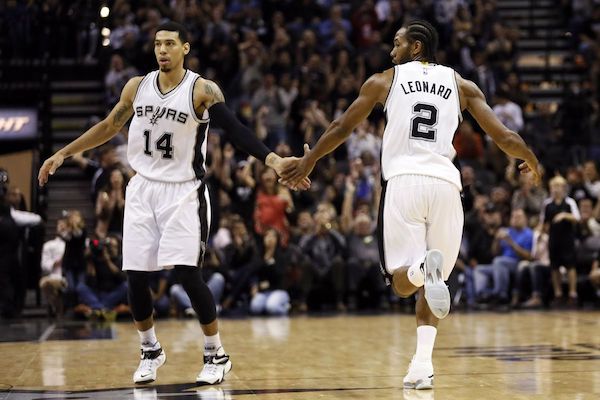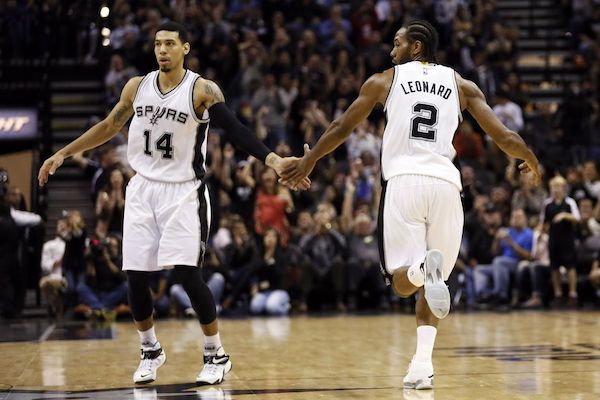 Danny Green has Kawhi Leonard's back.
ESPN.com's Adrian Wojnarowski, Michael C. Wright and Ramona Shelburne reported on Thursday afternoon that the San Antonio Spurs recently held a players-only meeting aimed at trying to get their superstar forward to return from his right quad injury. The picture they painted was hardly a rosy one:
Spurs guard Tony Parker, a four-time NBA champion, quarterbacked the meeting after the team's victory over Minnesota on Saturday night. Non-players were asked to leave the locker room, a source told Michael C. Wright.

The conversation was described as tense and emotional at times. Several teammates spoke up, expressing frustration and confusion over a growing divide that has created significant tension between Leonard and the Spurs. Outside the Spurs locker room, players' voices could be heard through the door, sources said.

Leonard remained resolute in his response, insisting that he has good reason to continue sitting out because he still isn't fully healthy, sources said. Leonard told his teammates that he planned to return once he felt able to do so, sources said.
Green, for his part, was quick to contradict these findings on Twitter:
Couldn't be anymore incorrect lol https://t.co/xo4yVyOvn2

— Danny Green (@DGreen_14) March 22, 2018
True or not, you have to admire Green for trying to get out in front of this situation. Leonard is hardly the most available or candid player in the league, and his swift rebuke at least helps limit the speculation-spree that's now ensuing.
The idea that some of the Spurs may be trying to get Leonard back on the floor isn't entirely farfetched. Parker, Manu Ginobili, Pau Gasol, even Gregg Popovich—these guys aren't in this thing for the big picture. Their window to win is now. And the Spurs cannot make a dent in the Western Conference playoffs without Leonard.
At the same time, the timing of this does seem a little odd. The meeting apparently came after the Spurs stuck it to the Minnesota Timberwolves last weekend, and the news itself drops while the team is riding a five-game winning streak. Also, Parker dealt with an injury similar to what Leonard is recovering from now. It would be a little weird for him, of all people, to lead the charge against the two-time Defensive Player of the Year.
If nothing else, though, this report is just the latest in a long line of proof the Spurs are no longer inoculated against the public's nose for drama. Leonard's status for the rest of this year, whatever it may be, remains one of the most debated topics around the league—and, possibly, inside San Antonio's locker room.