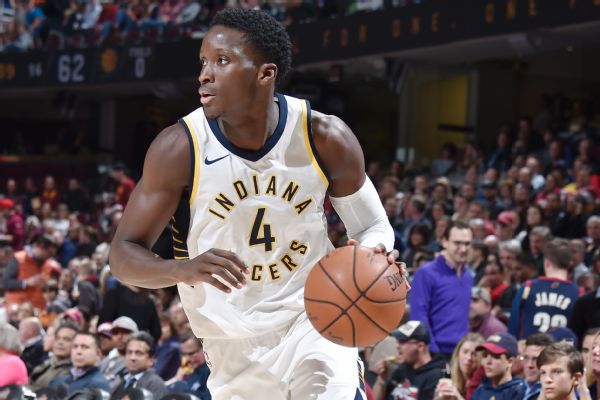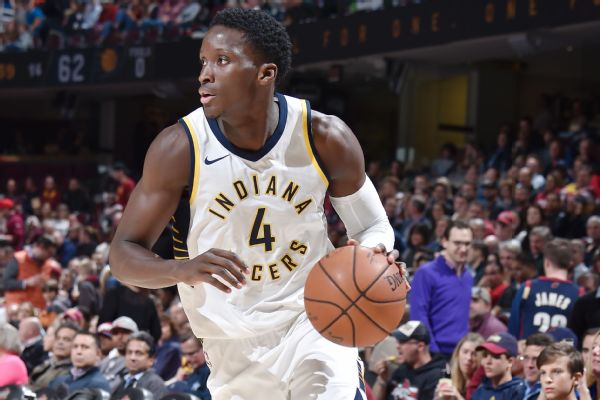 Victor Oladipo would like for us to maybe, quite possibly, if we could, stop talking about the winners and losers of the trade that sent him from the Oklahoma City Thunder to the Indiana Pacers in exchange for Paul George.
Speaking candidly, there's about zero chance of that happening—especially now.
Oladipo and and George are forever linked because of that blockbuster deal, and because of what that the package Indiana accepted came to represent: an aversion to rebuilding, and a belief that Oladipo could be a franchise cornerstone. But this week in particular will be rife with comparisons and updates and takes and all that stuff. George returns to Indiana for the first time as a member of Oklahoma City, so naturally, questions will be coming at Oladipo in fast and furious fashion.
And he's not exactly thrilled about it, per the Indianapolis Star's Clifton Brown:
This from #Victor Oladipo, on the trade that brought him to #Pacers – "I'm kind of getting sick and tired of the comparisons with Paul George and myself. He's moved on. I moved on. I'm happy here, he's happy there. I wish him all the best. I'm feathery, right here as a Pacer."
This reads like an extremely strong, firm, frustrated take…until you get to Oladipo's "I'm feathery" drop.
Look, he's been around the NBA for about a half-decade now. He's been traded once before. He knows how these things work. And his career start to the season hasn't made things any easier. He's played far better on the offensive end that George so far, and he has the Pacers on track to win 49 games. That trajectory feels unsustainable, because it is, but the Thunder are still trying to peak their heads above .500.
Wednesday's matchup won't settle anything profound. Someone will get bragging rights for a night, or a week, or maybe a little longer than that. But a real winner of this trade won't be rendered for a year or two, when we know what Oladipo's Pacers turned into. And even then, the Pacers are essentially grading themselves against, well, themselves. They were going to lose George anyway, and you never win deals in which you cough up a top-20 player. The question was, and still is, whether they accepted the right return.
As of now, it looks like they did. But we'll see.