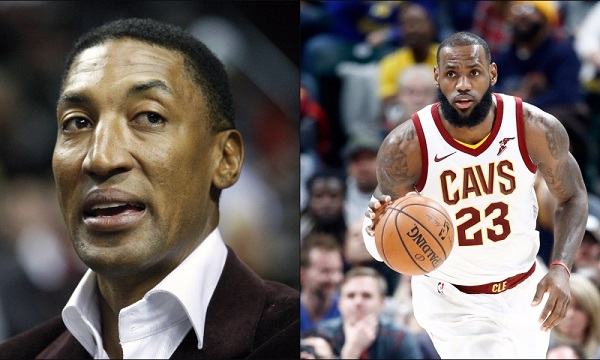 Ah yes, feels like a bit of deja vu with Scottie Pippen commenting on the debate between King James and Air Jordan.
In an appearance on ESPN's First Take (the perfect sort of show for this sort of headline grabbing material), Pippen explained how he would statistically put LeBron over Jordan.
See the quote here:
"The numbers don't lie. He's right there. He probably will never catch him in terms of MVP, but in terms of statistics, LeBron is right there. And when you look across the board — not just scoring — check his assists, check his rebounds … he's probably ahead of Jordan."
In terms of pure numbers, Pippen might be right. LeBron has already played more career games than Jordan and has more assists and rebounds than him in his career, averages more in each category and has shot a better percentage for his career from the field and the three-point line. He is still 2,500 points behind Jordan though on the all-time scoring list, but I think he will pass him by the time he is done as well.
LeBron has made more NBA Finals appearances than Jordan and is trailing him by one regular season MVP award. While I think LeBron is the more complete basketball player (shoot me), Jordan still has one little thing over him, six NBA championships.
Pippen strikes me as the kind of guy that likes to rock the boat and clearly talks out of both sides of his mouth as he has oscillated between anointing LeBron the best, saying he is not on the level of Jordan and Kobe Bryant and saying that he might be comparable to Magic Johnson.
He clearly likes to get some attention every now and then and it feels like he has a hot and cold relationship with his former running mate in Jordan and likes to prod him.
Any way you slice it, they are both top five players of all time and if anybody could ever pass Jordan to take over the fictitious throne of greatest basketball player of all-time, at least in this generation, it is LeBron James.