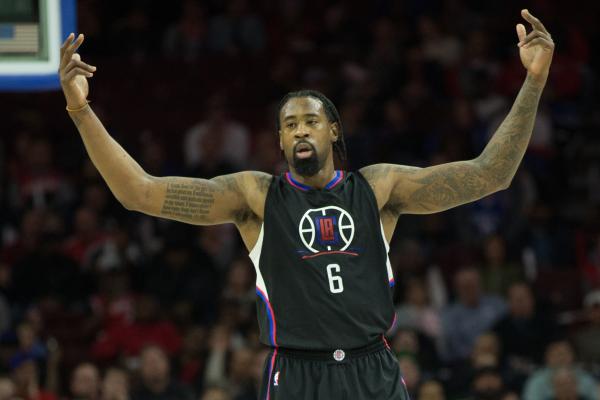 DeAndre Jordan trade rumors aren't going anywhere anytime soon.
Such is the nature of his situation. The Los Angeles Clippers are fading fast amid injuries, and he has a player option worth $24.1 million for next season that he's expected to decline. Can the Clippers really risk losing him for nothing on the open market? Better yet, with them whiffing on their ceiling for this season, can they really afford to re-invest in a center who turns 30 this July?
The precariousness of their situation has led to nonstop speculation. And the latest from Basketball Insiders' Steve Kyler suggests that the Cleveland Cavaliers and Milwaukee Bucks remain in the mix for his services:
There has already been some speculation that Jordan could be on the move to the Milwaukee Bucks in a package built around John Henson and possibly Jabari Parker, who is getting closer to returning to action after a second ACL tear.

The Cleveland Cavaliers have also been in the mix with an offer built around guard Iman Shumpert, Tristan Thompson and a first-round pick. It's been reported that pick was possibly the Brooklyn pick obtained in the Kyrie Irving trade, although sources close to the situation say it was never discussed and that the Cavs were open to moving their own pick in any trade scenarios.
Snagging Jabari Parker as part of any Jordan trade could be seen as both puzzling and a coup. The offensive ceiling on a roster that includes him, Blake Griffin and Danilo Gallinari is sky-high, but depending on how much Parker lands in restricted free agency, all of them will be making north of $20 million next year. Slotting Parker next to Griffin also demands one of them play center, which would hardly be a boon for the Clippers' defensive ceiling.
Accepting a package around Tristan Thompson would be kind of weird, perhaps rooted in convenience more than anything else. He isn't a bargain with two years and $36 million left on his deal after this one, but he is younger (26), and the Clippers might see value in not having to invest money in a center beyond 2020.
Stay tuned on this front. The trade deadline is a little less than two months away, and while it seems like we've heard every DeAndre Jordan scenario under the sun, chances are this will end up being just the tip of the spear.