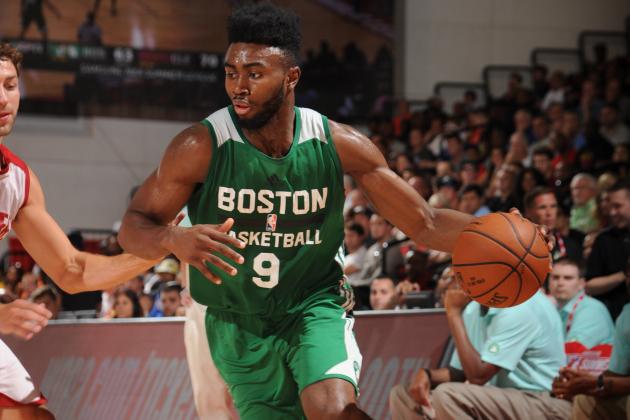 The 2017-18 Boston Celtics will look a lot different than the 2016-17 Boston Celtics that were the No. 1 seed in the eastern conference and made the eastern conference finals.
11 of the 15 players on the Celtics roster will be new, including four of their five starters.
One of the few players that was around last season and has remained a Celtic through all of the changes and (we think) roster upgrades is now second-year forward Jaylen Brown.
While a number of important pieces are gone, including Avery Bradley and Jae Crowder, there is one that stands above all (not literally though) because of the effect he had on the franchise because of the effect he had on the court and in the locker room: Isaiah Thomas.
Count Brown as one of Thomas's many fans in the organization, he says the team has a completely different feel without him as he told Complex Magazine:
"It changes the whole dynamic, the whole culture. We'll see if it's for good or bad, time will tell. But it's still a little weird to me, to be honest, because when I came in everything they stressed was culture, environment, Celtic basketball. Now, it's like what is the environment, the culture, what is Celtic basketball? I think it's a great opportunity for me, great opportunity for the Celtics, great opportunity for Kyrie. Obviously, I loved Isaiah. He was like a big brother to me. I watched him, admired him, the chip he carried on his shoulder I love him. I still do. I've kept in contact with him. Congratulated him when he got traded to the Cavs. It's tough because it's the business we live in. Do I agree with it? Not necessarily. I think Isaiah definitely tried to plant his flag in Boston. He will definitely be missed—he and Jae [Crowder] both."
There a lot of new parts in Boston that need to mesh next season and a team that was built around defense and a bulldog mentality now may be more of an offensive juggernaut who struggles to stop other teams, which makes Brown's skill set even more valuable to them.
Irving is younger and better than Thomas, but is a team without well-defined roles and an emotional leader like Thomas (I don't get those vibes from Irving) really better?
We will soon find out. One thing I do know is Brad Stevens is a master at getting the most out of a team so I am sure the Celtics will find their new normal.