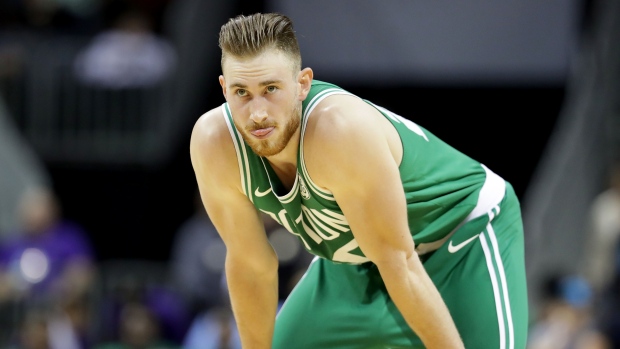 Gordon Hayward suffered a dislocated left ankle and fractured tibia barely five minutes into his regular-season debut with the Boston Celtics. He underwent surgery last Thursday and is expected to miss the rest of the year.
Oh, and lastly, he's already started the rehab process.
WAIT, WUT?
Yep, it's true. Hayward essentially began the recovery protocol immediately after going under the knife, his agent told NBC Sports Boston's A. Sherrod Blakely:
Only hours removed from surgery, Gordon Hayward's agent tells NBC @NBCSBoston that he has already begun the rehab process. ??????

— A. Sherrod Blakely (@ASherrodblakely) October 19, 2017
Kobe Bryant must be so proud.
Well that, or he's wondering why Hayward didn't begin the recovery process during the surgery.
This news is, obviously, fairly ambiguous. We don't know what the rehab process actually entails, but it probably consists of, you know, staying off his left foot for a bit. He could be laying in a bed, eating Cheetos, and have that literally be classified as recovery.
That probably isn't what Hayward's agent, Mark Bartelstein, meant when he talked to Blakely. But it's highly unlikely he meant that Hayward is sitting upright on a bench or bed or wheelchair doing bicep curls and practicing his jumper.
To placate our imaginations, though, let's assume whatever happened falls somewhere in between. It's so much cooler to imagine Hayward doing something a little more technical than resting—and not just because it implies he's superhuman, but because it would mean his spirits haven't been broken this latest setback.