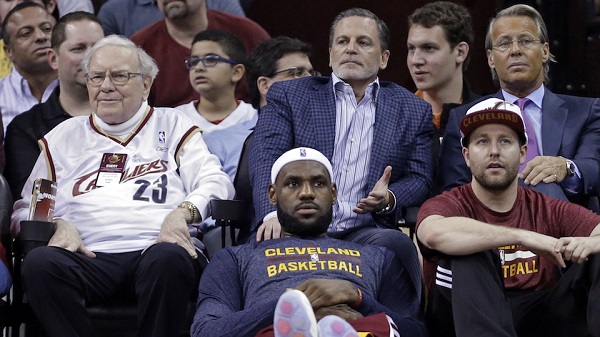 The Cavaliers off-season hasn't exactly been one to write home about. After losing to the Golden State Warriors in the NBA Finals in five games, Cleveland has done the following to the roster and front office this off-season:
Re-Sign Kyle Korver
Sign Jose Calderon
Sign Jeff Green
Sign Cedi Osman
Not renew General Manager David Griffin's contract, and low-ball Chauncey Billups to be their new president of basketball operations
Here is what they haven't done: trade for Paul George, Jimmy Butler or Carmelo Anthony or sign any capable wing defender or rim protector with NBA experience.
They also reportedly almost traded away Kyrie Irving for Eric Bledsoe and the No. 4 pick in the 2017 NBA Draft.
As you can imagine, that hasn't exactly tickled the fancy of LeBron James who will continue to be in "win now" mode to improve and beat the Warriors while he is still in his prime.
Here is a report from Jeff Zillgitt of USA Today on the situation:
"LeBron James, the NBA's most powerful player and biggest star who brought the Cleveland Cavaliers their first NBA championship, is concerned about the Cavaliers' offseason, a person close to the situation told USA TODAY Sports.

Expecting an aggressive offseason approach that would close the gap on the champion Golden State Warriors, James soon found his anticipation and optimism diminished after Cavaliers owner Dan Gilbert dismantled the front office, declining days before the draft and free agency to bring back general manager David Griffin and vice president of basketball operations Trent Redden.

Gilbert's decision left the Cavs without the franchise's top two front-office execs at a critical time, and it left James frustrated and concerned about the team's ability to put together a roster that can better compete with Golden State, the person with direct knowledge of James' thinking told USA TODAY Sports."
The Cavaliers, namely Dan Gilbert, is dropping the ball immensely this off-season by not paying up to keep a good general manager or paying enough to hire another one to help them acquire more talent and athleticism during an off-season when they sorely need it.
The Cavaliers need to work their way into acquiring a Carmelo Anthony to save face this off-season and not completely alienate the best player in franchise history going into a summer when he can leave them once again.
This is starting to feel a little like history repeating itself.