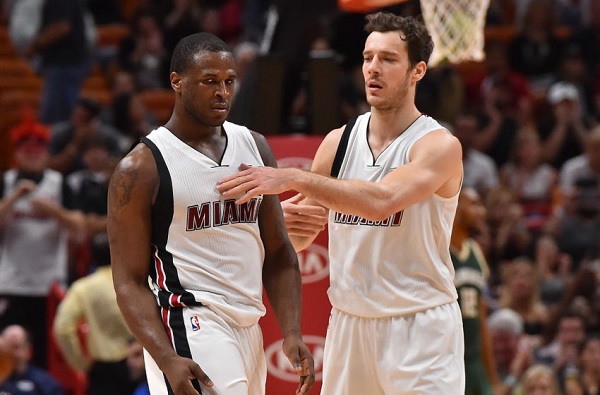 If you were to poll 10 casual NBA observers, the type that pay some level of attention during the regular season but don't really get engaged with the product until the playoffs roll around, who do you think they would say the hottest team in the NBA is right now? You would most likely get the Warriors or Spurs as an answer, but those answers would be wrong because the hottest team in the NBA is none other than the Miami Heat.
Yes the team that no longer has any of their big three, no LeBron, no Chris Bosh and no Dwyane Wade (still doesn't feel right) and has also dealt with as many injuries as any team in the league and whose only first round pick in the last two years, Justise Winslow, is out for the season.
The Miami Heat have won nine games in a row, a streak that includes wins over the Warriors and Rockets. They went from having the second worst record in the NBA on January 13, to three games out of the No. 8 seed as of February 2.
So how are they doing it? With an offensive rating of at least 105 in every victory and a better effective field goal percentage than their opponent in every game.
That points to great coaching, game planning and a team maximizing it's potential by putting their key contributors in favorable positions to score.
They are also doing it with the suddenly and surprisingly lethal Goran and Dion back court connection.
Dragic is averaging 23.3 points, 6.4 assists and 4.7 rebounds in the last nine games on 48 percent shooting from the field and 46 percent shooting from three-point range. The sort of production we haven't seen for this long of a sample size since Dragic was traded to the Heat at the trade deadline in 2015 and really since he was 3rd Team All-NBA in the 2013-14 season.
Waiters is averaging 19.3 points, 4.2 assists and 4.0 rebounds on 43 percent shooting from the field and 44 percent shooting from three-point range. We have never really seen Waiters produce on that level since being the No. 4 pick of the 2012 NBA Draft, and has never been shooting the ball from long-distance this effectively.
People around the league assumed the Heat would blow it up and tank just two weeks ago in order to clear more space and rebuild their roster, but with their current play it seems like the best move may be to wait it out this season and see if this team can find their way back in the postseason after a horrible beginning.
Hassan Whiteside is proving every day that he is worth every penny of his huge deal this summer with his improved play and maturity as well.
It will be interesting to see if the Miami Heat aren't active on the trade market now because of the spark that is occurring or if they even become buyers in order to improve a rapidly improving team.
In the meantime, let's just appreciate the Goran and Dion connection.