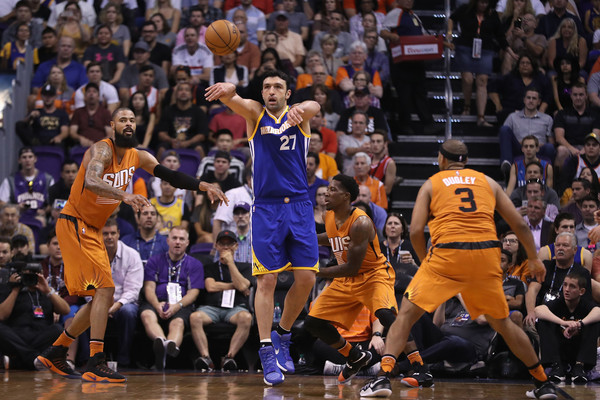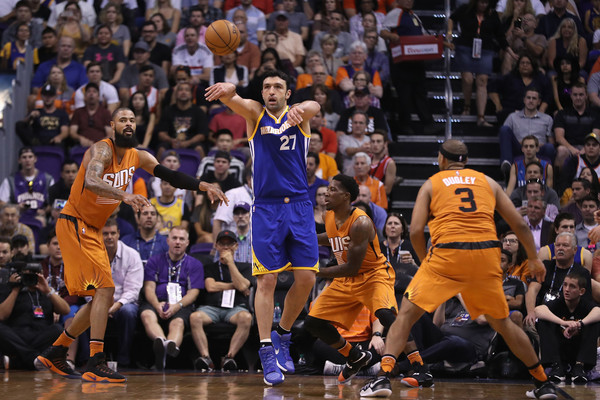 The Golden State Warriors will be seeing less of Zaza Pachulia over the next week, as he recovers from a rotator cuff injury.
Per the Association Press (via NBC Sports):
Golden State Warriors center Zaza Pachulia has a strained rotator cuff in his right shoulder and will be sidelined for at least a week.

He underwent an MRI exam Tuesday and expressed his relief a day later that the injury wasn't more serious. He is scheduled to be re-evaluated after a week. Pachulia made a diving play to secure a steal in the fourth quarter of Sunday night's 113-111 victory at Portland, and his outstretched right arm landed awkwardly and his shoulder made contact with the ball.
Many of us laugh at Pachulia, and the Warriors are going to be fine. JaVale McGee can provide some quality minutes in his stead, and Draymond Green can soak up more time at the 5 as well. But Pachulia does have the Warriors' second-highest net rating, according to NBA.com. He can be a real loss.
In many ways, he's a luxury the Warriors need—that big who has no problem doing the dirty work, whatever it may be. He tries hard on defense, even if his rim protection isn't the greatest, and he gets up and down the floor well enough to exist within their at times frenetic offense—no small feat given how fast that makes him run, along with the fact he isn't a featured weapon and won't be rewarded for his diligence.
There's no need to manufacture fake drama, though. The Warriors will more than get by without him, and his absence gives them a bit more flexibility to experiment with different death-squad variations.