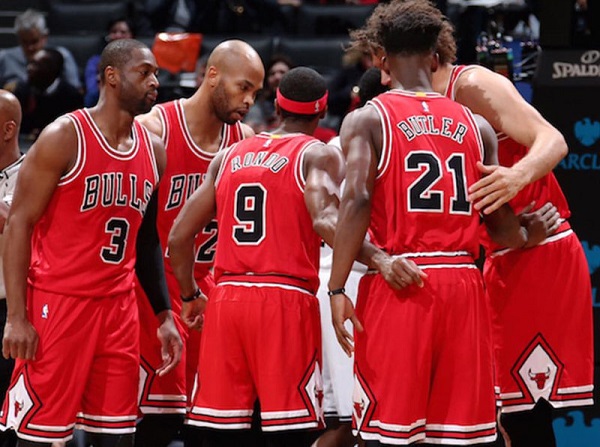 The Chicago Bulls locker room and team harmony seems to be eroding at the seams, as an underachieving (not in my opinion) veteran laden 23-24 Bulls team that is led by some outspoken veterans has resulted in a number of stories as players make statements in the media about their dissatisfaction with one another.
Dwyane Wade has spoken about how upsetting it is to him that some of the younger players on his team don't seem to have competitive personalities and aren't very affected or angered by losing games and Jimmy Butler has backed him up on it.
Rajon Rondo, the outspoken and ornery player that he is, took umbrage to this public lashing of the young guys in the media and in a not so veiled manner called out Wade and Butler for their lack of leadership abilities, work ethic or example setting abilities of the veterans that he had learned from in Boston.
K.C. Johnson of the Chicago Tribune revealed Friday whom Wade was referring to when he shared his frustration:
"Sources said Nikola Mirotic and Carter-Williams have frustrated Wade and Butler more than most players and that both Wade and Butler addressed players privately before airing their frustrations to reporters."
This isn't necessarily surprising as each player has seemed to steadily decline in value and production after starting their careers well. Both seem to be on the path to being out of chances to be consistent contributors or out of the league all together.
It is clear to me and probably to most around the league that while some of the Bulls young-ish players may not have the workman-like and passionate mindset of a hall of famer and three-time NBA champion in Dwyane Wade or one of the most notorious hard workers in the NBA for quite some time in Jimmy Butler. The real problem here is the horrible fit of their current roster construction and how that is leading to the mediocre play and frustration by guys who are more used to winning.
It is clear as day that Rajon Rondo's days as a viable and perfunctory starting point guard for a winning team have been over for a few years now because of his lack of shooting ability, desire to be an offensive threat and severely declining defensive abilities.
The Bulls need to waive Rondo, allow a young guy like Jerian Grant to have a chance to play point guard and let Wade and Butler mostly run the show for the remainder of this season and re-assess how they need to build their team effectively around Butler after the season.
You could see these sort of struggles on and off the court a mile away when the Bulls made the snap decision to acquire Dwyane Wade and Rajon Rondo to be their back court in 2016 and 2017.
Don't count on their being any banana boat trips or bowling excursions for this team any time soon.