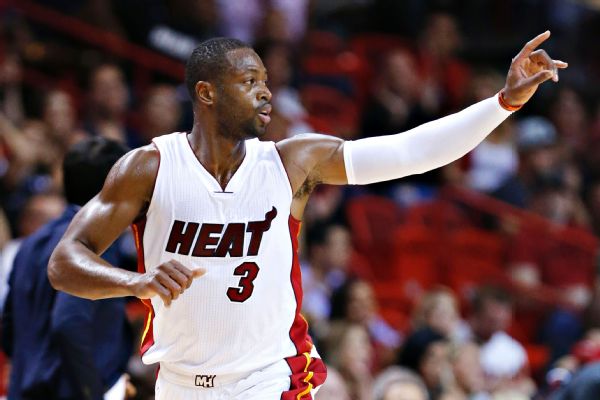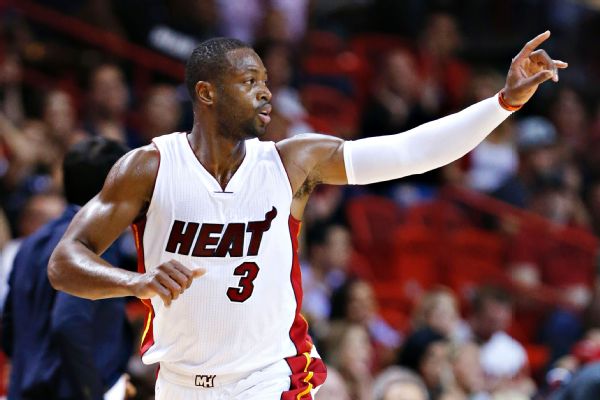 Dwyane Wade is ready to board the NBA's three-point bandwagon.
Sort of.
The 34-year-old is shooting a blistering 72.2 percent from long range during the playoffs. While that accuracy has come amid just 11 attempts, this is just the fifth time in his career he's averaging at least 1.2 deep-ball attempts per postseason contest after playing in at least 10 of such games.
Are we bearing witness to a new, more three-point-oriented version of Wade?
Maybe.
Per Jason Lieser of the Palm Beach Post:
Doesn't a run like this make you think about adding it permanently?

"I will be, if I want to keep playing. Stick around. I work on it. Everything I do in the game, I work on. I work on catch-and-shoot 3s. At some point, maybe I will. Maybe I won't. I'll work on it, and whenever I need to go to it, hopefully it goes in.

"I always work on it more in the playoffs because you've just got more time to focus. In the regular season, we're traveling and this and that and I just work on what I know I'm getting in my spots. In the playoffs, I open it up more because if a team takes this away, I need to counter. And I have more time in the playoffs to work on certain things."
Chucking threes in volume is part of the fabric of today's NBA play style. If Wade wants to be the best version of himself, he'll absolutely warm up to the three-ball more as time goes on.
Plus, while he has aged rather gracefully, he can only stage rim attacks for so long. Shooting threes is a way of rendering himself an even more lethal off-ball threat, which should, in the long run, be easier on his body.