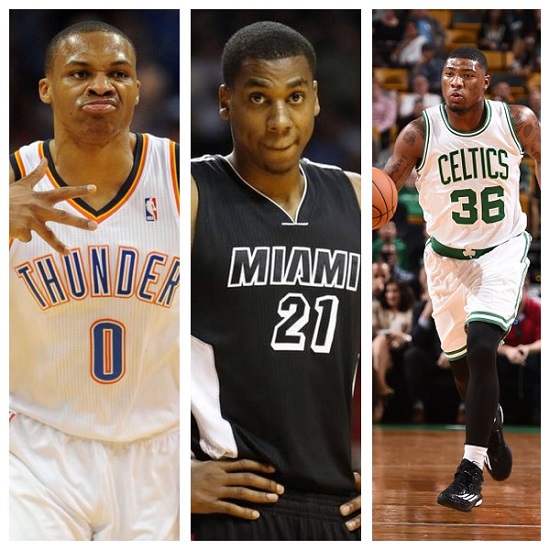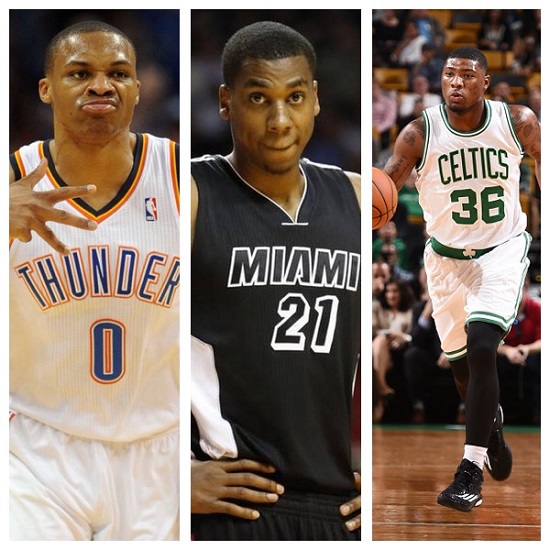 Three players registered a triple-double during Friday's action: Russell Westbrook, Hassan Whiteside and Marcus Smart.
This was only the second time this had happened in the NBA in the past 13 years, the only other time was on April 1, 2015.
Here is the statline for each player and some additional info:
Russell Westbrook:
Westbrook recorded back to back triple-doubles over the weekend. Friday night in a 113-93 win against the Minnesota Timberwolves Russ had 12 points, 11 rebounds and 10 assists in only 29 minutes. He followed that performance up with an even better performance in a 99-74 win over the Miami Heat on Sunday night with 13 points, 15 assists and 10 rebounds.
#SAPStatLineOfTheNight – @RussWest44 notched his 2nd triple-double in a row (5th of the season) in @okcthunder win! pic.twitter.com/0UGjb73ocW

— NBA.com/Stats (@nbastats) January 18, 2016
ESPN posted a graphic of a stat from the Elias Sports Bureau Friday night that shows that Westbrook has the most triple-doubles in fewer than 30 minutes played in NBA history, Friday night was his fifth…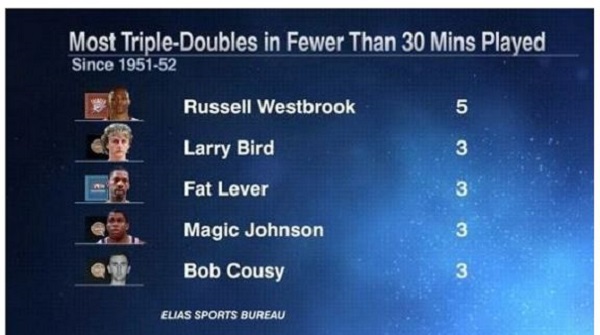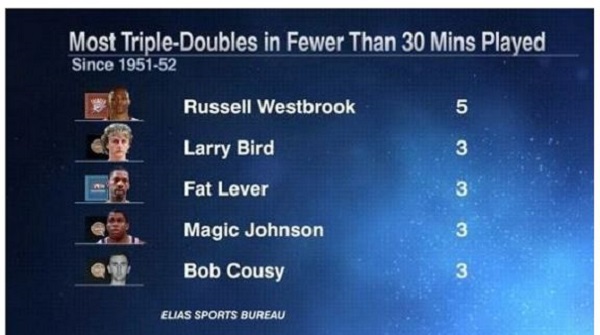 Hassan Whiteside:
Whiteside recorded his third career triple-double and second this season with 19 points, 17 rebounds and 11 blocks in a 98-95 win for the Heat over the Nuggets Friday.
RT to vote for @youngwhiteside! 19 pts. 17 rebs. 11 blks. Mr. Triple Double should be an NBA All-Star! #NBAvote https://t.co/Os10PD3jnE

— Miami HEAT (@MiamiHEAT) January 16, 2016
All three of Whiteside's triple-doubles are with blocks and he is tied for the most triple-doubles, including blocks, of anybody in the past 20 seasons along with Marcus Camby and Shawn Bradley.
Marcus Smart:
Smart recorded the first triple-double of his career in 33 minutes off the bench for the Celtics in their 117-107 win over the Suns Friday with 10 points, 11 rebounds and 11 assists. Smart is the second Celtic to ever record a triple-double off the bench, the other is good old Art "Hambone" Williams in 1971.
With his 1st NBA triple-double, Marcus Smart was the @HRBlock Clutch Player of the Game in the C's win last night. https://t.co/SEHpCabfHE

— Boston Celtics (@celtics) January 16, 2016