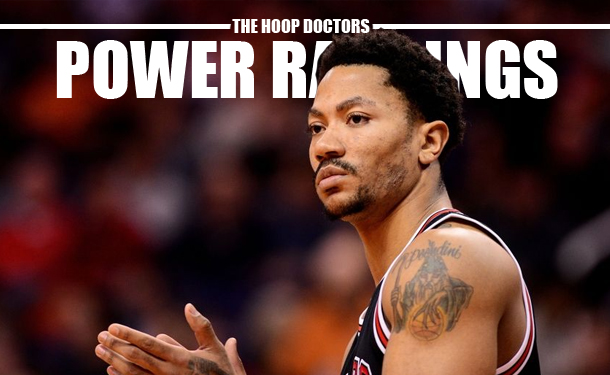 'Tis the season for NBA power rankings.
Fine, 'tis the day for NBA power rankings. It's the same day every week, almost irregardless of the season. This day, of this week, is no different—except unlike the previous day, of last week, we're here to acknowledge, to lament, the utter implosion of the Bulls.
Yes, they still have one of the East's six best records. But they've dropped three straight, including one to the Nets, and their offense is a craptastic blend of everything it's not supposed to be.
In other news, the Spurs and Warriors are still good; the Lakers and Sixers are still really bad; the Mavericks remain magnificently middling; the Hornets appear to be coming back down to Earth; the Hawks are alive again; and the Rockets are once more doing that thing in which they make you believe they're better than horrible.
In yet some more news, we have some more news.
It's time to rank.
***For a week by week list of all our NBA Power Rankings this season, please visit this page.
NBA Power Rankings
| | |
| --- | --- |
| 1 | |

Golden State Warriors

We may never know how truly good the Warriors can be—until the their small-ball Death Squad lineup is fully healthy and ready for constant fourth-quarter deployment again.

Last Week (1)

| | |
| --- | --- |
| 2 | |

San Antonio Spurs

The Spurs have a better net rating than the Warriors, according to Basketball-Reference, and while I cannot help but believe the gap between the two favors Golden State and is larger than statistics show, it's freaking crazy what San Antonio is doing right now.

Last Week (2)

| | |
| --- | --- |
| 3 | |

Oklahoma City Thunder

Someone, anyone, help the Thunder's late-game offensive setup. Like, I'm pretty sure whatever former head coach Scott Brooks used to draw up is an upgrade over what they're running this season.

Last Week (3)

| | |
| --- | --- |
| 4 | |

Cleveland Cavaliers

Kyrie Irving is back, so it stands to reason that the Cavaliers are going streaking.

Last Week (4)

| | |
| --- | --- |
| 5 | |

Boston Celtics

If the playoffs started today, the Celtics wouldn't be participating, and yet they're in the top five. What gives? All I can say is…watch them. They have thus far played through one of the toughest schedules and own a better SRS—Basketball-Reference's cumulative measurement of point differential and strength of schedule—than 26 of the Association's 30 teams.

Last Week (5)

| | |
| --- | --- |
| 6 | |

Miami Heat

Not sure the Heat can keep their current pace if they don't climb outside the bottom 10 of offensive efficiency.

Last Week (10)

| | |
| --- | --- |
| 7 | |

Indiana Pacers

There ain't no reality check like a San Antonio Spurs/Kawhi Leonard reality check. The Pacers/Paul George know what I'm talking about.

Last Week (6)

| | |
| --- | --- |
| 8 | |

Toronto Raptors

Don't mind me, I'll just be sitting over here, in deep thought, trying to fathom what the Raptors could do with a healthy, properly achieving DeMarre Carroll.

Last Week (7)

| | |
| --- | --- |
| 9 | |

Atlanta Hawks

It looks like the Hawks are back! For now.

Last Week (15)

| | |
| --- | --- |
| 10 | |

Orlando Magic

Something about the Magic just feels right when you're watching them. Their offense, while uninventive, has enough talent to rattle off points when it needs them, while their defense is a swarming jumble of bodies jumping passing lanes and trapping ball-handlers.

Last Week (12)

| | |
| --- | --- |
| 11 | |

Detroit Pistons

Reggie Jackson has been damn good. So good that the Pistons play like a top-five offense when he's in the game, per Basketball-Reference, compared to the bottom-two-level crapfest they field when he's on the bench

Last Week (14)

| | |
| --- | --- |
| 12 | |

Charlotte Hornets

Faith in the Hornets' preeminently balanced approach is wavering. They need a trademark "See? We're actually here and good on both sides of the floor despite the fact that we shouldn't be" win to convince the public at large they won't remain on the outside looking in at the East's playoff bubble.

Last Week (8)

| | |
| --- | --- |
| 13 | |

Dallas Mavericks

The Dallas Mavericks, magnificently middling.

Last Week (13)

| | |
| --- | --- |
| 14 | |

Los Angeles Clippers

After stealing back DeAndre Jordan from the Mavericks, the Clippers are on pace to win fewer games than, well, the Mavericks. #Irony

Last Week (11)

| | |
| --- | --- |
| 15 | |

Houston Rockets

When James Harden plays defense, the Rockets are a much better team. #Analysis

Last Week (16)

| | |
| --- | --- |
| 16 | |

Utah Jazz

Um, the Jazz no longer rank inside the top 10—or top 15—of defensive efficiency, but they're eighth in offensive efficiency. WUT.

Last Week (19)

| | |
| --- | --- |
| 17 | |

Chicago Bulls

This current Bulls core is dunzo. The front office needs to start selling off anyone not named Jimmy Butler—and, perhaps, Nikola Mirotic/Doug McDermott—and start over.

Last Week (9)

| | |
| --- | --- |
| 18 | |

Memphis Grizzlies

At some point, the statistically disastrous Grizzlies have to dip below .500 again, right? RIGHT?

Last Week (17)

| | |
| --- | --- |
| 19 | |

New York Knicks

Too often the Knicks lose games they could have won had they been coached better.

Last Week (23)

| | |
| --- | --- |
| 20 | |

Phoenix Suns

Starting T.J. Warren instead of P.J. Tucker makes sense for the Suns. Benching Brandon Knight in favor of Devin Booker, however, is just begging for a hailstorm of shit.

Last Week (18)

| | |
| --- | --- |
| 21 | |

Minnesota Timberwolves

Karl-Anthony Towns is still the unequivocal Rookie of the Year favorite, Zach LaVine is playing some good ball, Andrew Wiggins is gradually playing himself out of his funk, and the Timberwolves as a whole are watchable. Life is pretty good in Minnesota.

Last Week (21)

| | |
| --- | --- |
| 22 | |

Washington Wizards

Congratulations, Wizards. You're officially in line to win the totally fake, not-at-all real Bizarre-est Team of the Year award.

Last Week (26)

| | |
| --- | --- |
| 23 | |

Denver Nuggets

Nikola Jokic is still winning over hearts—specifically mine.

Last Week (24)

| | |
| --- | --- |
| 24 | |

Portland Trail Blazers

Ed Davis and Mason Plumlee are two of the Blazers' three most important players. Seriously.

Last Week (20)

| | |
| --- | --- |
| 25 | |

Sacramento Kings

Slowly, surely, the Kings' statistically sound offense is breaking. That should spell good news for the relationship between DeMarcus Cousins and George Karl.

Last Week (25)

| | |
| --- | --- |
| 26 | |

Milwaukee Bucks

Indeed, the Bucks almost beat the Warriors a second time. But they're wildly inconsistent overall, and their defense is still making me sad.

Last Week (22)

| | |
| --- | --- |
| 27 | |

New Orleans Pelicans

Somewhat quietly, the Pelicans have played their way into the top 12 of offensive efficiency. This is not reassuring for those hoping they'll throw in the towel on this season and give adequate chase to LSU's Ben Simmons.

Last Week (27)

| | |
| --- | --- |
| 28 | |

Brooklyn Nets

Hey, at the least the Nets beat the Bulls.

Last Week (28)

| | |
| --- | --- |
| 29 | |

Los Angeles Lakers

So, on the bright side, the Lakers don't have the league's worst defense. They have the Pelicans to thank for that.

Last Week (29)

| | |
| --- | --- |
| 30 | |

Philadelphia 76ers

How bad is the Sixers offense? It's scoring 5.7 points per 100 possessions less than the second-worst offense.

Last Week (30)