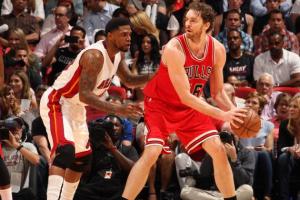 Hot quarters are nothing new to the NBA. When out-of-this-world shooting is combined with lockdown defense and (or) an ice-cold offensive display by an opponent, lopsided 12-minute sessions can occur.
But the Chicago Bulls accomplished something Thursday night that had no precedent.
After being outscored 33-12 in the second quarter against the Miami Heat, the Bulls rebounded after a halftime and amassed a 33-8 beatdown during the third frame.
According to Basketball-Reference.com, Chicago staked its place in league history as the first team to experience both sides of a quarter that showcased a 33-point performance by one squad and 12 points or less by the other crew.
Note: Basketball-Reference data dates back to 1955.
The pair of dramatic swings on the scoreboard led TNT's Rachel Nichols to quote the 1989 film Major League when she asked Pau Gasol if they sacrificed a live chicken at halftime.
Rachel Nichols Asks Pau Gasol About Chicken Sacrifice https://t.co/Z3Xm2QY9cD

— The Cauldron (@TheCauldron) April 10, 2015
The Bulls also became the 14th unit to amass a 33-8 advantage in a single quarter, a feat the franchise achieved three times when a certain "Michael Jordan" fella was dominating the court.
So, on such a weird night, perhaps it was only fitting that Chicago earned an 89-78 victory. Gasol paced the Bulls with 16 points and 15 rebounds, while Taj Gibson added 14 and 12 off the bench.
But strange didn't stop there.
Thursday marked the fourth (!) time since Jan. 3 that Miami allowed 33 points in a single quarter while scoring 12 or less. Chicago joined the Houston Rockets, Dallas Mavericks and Detroit Pistons to douse the Heat in a major way.
"Terrible" hardly describes that statistic, so how about this: That's the first time since 1955 a team has sustained a 33-12 deficit four times in one season.
Not the 2012 Charlotte Bobcats. Not the 1973 Philadelphia 76ers. The 2015 Miami Heat—a team that has a legitimate shot to sneak into the playoffs has surrendered four egregious quarters.
Sometimes, basketball is weird.
In addition to his work for The Hoop Doctors, David Kenyon contributes to Bleacher Report and Sportsnaut. You can follow him on Twitter: @Kenyon19_BR.