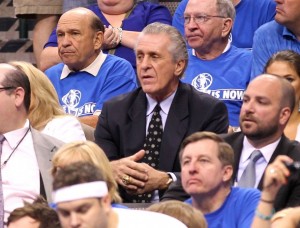 Pat Riley has already collected enough accolades to last a lifetime.
At the University of Kentucky—where his jersey is retired—Riley was a first-team All-American and SEC Player of the Year. He was a first-round draft pick of the San Diego Rockets in 1967 and won an NBA championship with the Los Angeles Lakers in 1972.
Riley subsequently moved on to what made him a legend. He was an assistant coach for the title-winning 1980 Lakers, taking the helm one season later and eventually earning four more rings with the "Showtime" era teams.
Following a championship-less stint with the New York Knicks, Riley bolted for what became an essentially unsuccessful six-year term with the Miami Heat. Nevertheless, he was twice named NBA Coach of the Year (1993 with NYK, 1997 in MIA), his second and third times receiving the award, respectively.
Riley briefly stepped down but replaced Stan Van Gundy on the sideline during the 2005-06 campaign, leading the Heat to the crown—his fifth and theoretically final title as a coach.
Since then, he organized the NBA's most recent dynasty, convincing LeBron James and Chris Bosh to join Dwyane Wade. Four Finals appearances and two championships later, the super-team can is an unquestioned success despite LeBron's departure last offseason.
Consequently, Riley being passed over for 2014-15 Executive of the Year wouldn't be a shocking development. After all, the Heat have represented the Eastern Conference in the last four championships.
But the current President of the Miami Heat deserves every bit of the honor.
"Pat Riley was a top 3 coach of all-time, he might even be a better GM than he was a coach." – @AminESPN #NBAtradetalk

— NBA on ESPN (@ESPNNBA) February 20, 2015
The Cleveland Cavaliers' David Griffin, who signed LeBron, traded for Kevin Love, Timofey Mozgov, J.R. Smith and Iman Shumpert, is a clear favorite to receive the Executive of the Year title.
However, what Riley has accomplished in Miami is arguably more impressive.
A few days into March, the Heat are a meager 26-33. Nevertheless, Erik Spoelstra's team ranks No. 7 in the East, clinging to one of the final playoff positions.
On paper, the Miami executive has little business being in the conversation. Without Riley, though, the Heat wouldn't have mended a handful of glaring shortcomings. The tape-job applied to the roster isn't perfect, but it certainly is an impressive one.
Riley inked Luol Deng to a free-agent deal in July, providing Chris Bosh and Dwyane Wade a much-needed tertiary scoring option and stout defender. Plus, when the aging Wade needed a night off, Deng could step in as the No. 2.
Mario Chalmers and Norris Cole have struggled mightily throughout the season, and Miami certainly wouldn't be a threat in the postseason without a legitimate point guard. Riley shipped Danny Granger and a pair of future first-round picks to the Phoenix Suns in exchange for a disgruntled—yet extremely talented—Goran Dragic.
Wade on Goran Dragic coming in: "You can never be surprised by what Pat Riley has up his sleeve."

— Jason Lieser (@PBPjasonlieser) February 20, 2015
Even Tyler Johnson, who was originally signed to a 10-day contract, has performed well when utilized as more than a deep reserve. The rookie from Fresno State has tallied 7.5 points per outing and recorded an 18.9 player efficiency rating.
Soon after news broke that Bosh would be sidelined for the remainder of the year due to a blood clot in his lung, Riley added Michael Beasley. The former No. 2 overall draft pick never quite lived up to his potential, but Beasley was signed to fill the all-important stretch-4 role.
Most impressively, though, Riley signed Hassan Whiteside in late November. When the Heat inked a 7-foot center who hadn't played in the league since 2012 with the Sacramento Kings, no one really noticed.
Three months later, everyone cares. Whiteside has blossomed into one the NBA's most dominant post players. He's tallied 10.8 points, 9.6 rebounds and 2.4 blocks per game, registering a 100-percent absurd 28.0 PER.
Signing the best basketball talent in the world is undoubtedly impressive. Griffin deserves tons of credit for his work in Cleveland. But piecing together a roster that overcomes a slew of setbacks—particularly one to the team's star—is outstanding.
Riley traded next-to-nothing for a bona-fide stud. He found a handful of gems despite the supposed dearth of free-agent talent to bolster a playoff run. A total of 21 players have suited up for Miami, yet the team is poised to reach the postseason.
Now that's worthy of some recognition; Executive of the Year, perhaps. Riley has plenty of accolades, but there's always room for more.
In addition to his work for The Hoop Doctors, David Kenyon contributes to Bleacher Report and Sportsnaut. You can follow him on Twitter: @Kenyon19_BR.