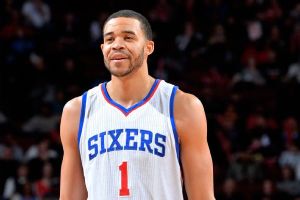 The Sixers are record-wise still terrible this season, but arguably more fun to watch—thanks to their promising young guns and a little bit of credit to newly-acquired center Javale McGee.
However, it looks like Mcgee's days as a member of the Sixers will be cut short as both parties have come to an agreement for a buyout—thus making Mcgee's services available once more to interested teams, via Sam Amick of the USA Today.
The Philadelphia 76ers have agreed to waive center JaVale McGee in time for him to sign with a playoff team, a person with knowledge of the situation told USA TODAY Sports. The person requested anonymity because the decision had not been announced.

Players waived by March 1 can still sign with teams that compete in the postseason, meaning the 27-year-old McGee will likely have a fruitful market when he clears waivers.
The Sixers take no discount as they will be paying the full buyout price of $12 million dollars for next season, and this shows us that the team really doesn't see McGee in their rebuilding plan.
Even though McGee may be known more for his foolish plays and frequent appearances in Shaqtin' a Fool, it doesn't take away the fact that he's an athletic big man that may prove to be a reserve center for a contending team this season.
It'll be interesting to see who he'll sign with.
Benjamin Felix Santos is currently a senior college student from Manila, PH. An aspiring NBA writer, who bleeds the purpleand gold. His love and passion for the game will never die.
Follow @biefsantos