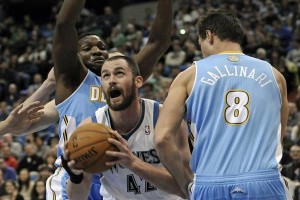 If you're looking for a dark horse in the Kevin Love trade sweepstakes, you got it.
You can thank the Denver Nuggets.
During an article in which he refuted reports that the Boston Celtics had made the strongest offer for the Minnesota Timberwolves superstar, Steve Bulpett of the Boston Herald brought word that the Nuggets have entered the fold:
"One source indicated Denver and Golden State have both made more intriguing offers, and there are other teams very much in the picture, as well.
Other teams are obviously involved. Players like Love rarely become available, so almost everyone is bound to take a look.
But until now, we haven't heard anything about the Nuggets. They're coming out of nowhere, and they're apparently making a strong offer.
What might that offer be? Bulpett solves part of this mystery:
Sources: in addition to Wilson Chandler and Kenneth Faried, Denver offering Minnesota a player they would acquire (Arron Afflalo) for Love.

— Steve Bulpett (@SteveBHoop) June 19, 2014
If Minnesota is looking for young talent and a proven scorer, swapping Love for a package built around Kenneth Faried, Wilson Chandler and Arron Afflalo—assuming he can actually be acquired from the Orlando Magic—makes a ton of sense.
Yours truly has long been a proponent of the Timberwolves chasing draft picks, though, provided they're ready to move Love before this year's fiesta. Draft picks are cheap talent. They're rookies who can be locked down through two contracts for six or seven or more years before small markets like Minnesota must worry about the crapstorm Love's unhappiness and desire to play on a bigger, brighter stage brings.
No matter the package Minnesota accepts, Denver would be an intriguing destination for Love. Pairing him with a healthy Danilo Gallinari and Ty Lawson would be fun to watch. The Nuggets need shooting and he gives them a lot of it. Throw in the supporting stylings of Nate Robinson, Randy Foye and J.J. Hickson, and perhaps a healthy JaVale McGee, and this team has something to build on.
Trading for Love is a risk, though. He's going to become a free agent no matter what in 2015. There's no guarantee he stays in Denver beyond next season. It's not a post-apocolyptic junkyard, but it's not Chicago or Boston or Los Angeles or New York either.
That's what makes the Nuggets' competitive offer so interesting. They're making an aggressive play for someone who may wind up being a one-year rental. That can be seen as ballsy or stupid or ignorant or a sign that they don't want to hand Faried a crazy extension or all of the above.
Still, All-Stars don't hit the chopping block often. It never hurts to look—unless after looking, the Nuggets mortgage the farm for Love, show no improvement next season and watch him sign elsewhere in 2015.
Then it most certainly hurts to look.
Dan Favale is a firm believer in the three-pointer as well as the notion that defense doesn't always win championships. His musings can be found at Bleacherreport.com in addition to TheHoopDoctors.com.