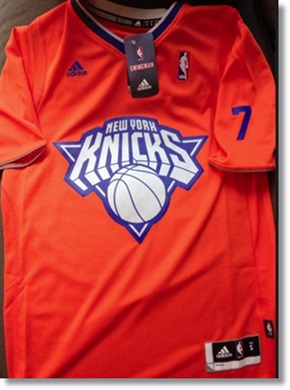 It isn't exactly a great time to be a New York Knicks fan after just a few weeks into the regular season.
It's only mid November, but the Knicks are sitting with a sub .500 record and are riddled with injuries like Amare Stoudemire's rapidly deteriorating knees and news that Tyson Chandler is out 4-6 weeks with a fractured fibula.
Last year's NBA scoring champion Carmelo Anthony is struggling and the sadly missed reigning 6th Man of the Year JR Smith has downright dreadful in his season debut over the weekend.
They rank 28th out of 30 NBA teams offensively, have lost 3 games in a row heading into Wednesday night's match-up with Atlanta, and now there's already some rumblings from management that coach Mike Woodson might become the scapegoat for such a disappointing season.
Prior to the season, the Knicks were one of 10 teams we expected to challenge for an NBA title, but it now clear that they are at least a notch below Miami, Indiana, Brooklyn, and Chicago, even with a rusty Derrick Rose.
While the season my be turning into a total disaster, at least the Knickerbockers will be wearing brand new orange sleeved jerseys for their home match-up with the Thunder on Christmas.
"The jerseys will have sleeves and, more intriguingly, will not have uniform numbers on the front. Instead, they will carry a team logo on the chest, similar to a hockey jersey, with the uniform number moved to the left sleeve. Each player's name and number will remain on the back, as usual. The overall visual effect is that of a glorified T-shirt." The jerseys, which will be officially unveiled by the league later this month, mark a significant departure from past NBA uniform designs. Although several teams have been experimenting with sleeved alternate jerseys, the sleeves on those jerseys have been blank — no numbers, no stripes, no patches, no patterns. These new designs, with the numbers on the sleeves, may indicate that the league and Adidas are planning to turn sleeves into a significant uniform design element."
They may not be playing a pretty brand of basketball but at least they'll look good while doing it…or will they?  Yay or nay on the Knicks Christmas Day uniforms?
Allen Moll has been a lifelong NBA and NCAA College Basketball fan who watches and studies games religiously, and coaches youth basketball in his native Lehigh Valley region of Pennsylvania. Allen has also provided content to Bleacherreport.com, Upperdeckblog.com, Cleveland.com, CSN Philly.com, Buckets Magazine, in addition to being a tenured NBA and NCAA columnist for TheHoopDoctors.com.