April 16, 2012 – Kevin Burke


Each year, Gatorade recognizes high school student-athletes, for excelling both academically and athletically, in the form of a Player of the Year award. Last week, it was time for the Boys National Basketball Player of the Year to be announced and in typical Gatorade fashion, a former recipient surprised this year's winner. NBA great, Alonzo Mourning who won this very award back in 1988, was in Chicago to present the award to Jabari Parker of Simeon Career Academy by surprising him during Spanish class. Just minutes after the presentation, The Hoop Doctors had the chance to catch up with Zo.
Kevin Burke: Kevin Burke here and I have the honor and privilege to spend a few minutes with Alonzo Mourning. Zo, thanks for a few minutes today. Now, we know that you're in Chicago at Simeon Career Academy where you just surprised Jabari Parker with the Gatorade Boys National Basketball Player of the Year trophy. I know that you usually try to surprise the winner so was he shocked to see you?
Alonzo Mourning: Yeah, he was surprised and it was an amazing day to be able to present and pass the torch, to present the award to Jabari who is very well deserving of the award. The kid truly has it together both on and off the court. When you think about his on the court skills, compiled with the fact that this kid is a tremendous student, as well as his community service…just the balance that he has in his life…he knows what is expected of a student-athlete and is aware of where his priorities lie. And he's very active in the church as well. So I'm very pleased to have an opportunity to meet this young man and I'm looking forward to following his career.
Kevin Burke: You won this award when you were in High School. Why is this award so special to you?
Alonzo Mourning: Well, it's special to me simply because when you think about it, it's truly a prestigious award. The two individuals that won the award before me, J.R. Reid and LaBradford Smith…by the time I received the award, I followed those two individuals throughout their careers in high school…so when I received the award, I felt like that I had arrived as a player simply because those two players were the number one high school players in the country. So by me receiving the award I felt like I had done something right.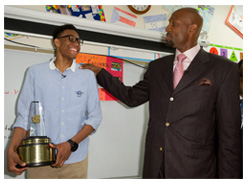 Kevin Burke: You and I spoke this same time last year and the year before. Two years ago we spoke right after you presented the award to Brandon Knight and last year after you presented it to Brad Beal. Brandon, as you know, went on to Kentucky and had a solid freshman year before making that leap to the NBA where he's now doing his thing for the Pistons. Similarly, Brad Beal had a very strong freshman campaign as well and he too has decided to enter the NBA draft. Recently, both David Stern and Mark Cuban have expressed interest in adding a year to the NBA's age limit. What's your take on this?
Alonzo Mourning: I'm a huge fan of that decision
Kevin Burke: The decision to add another year?
Alonzo Mourning: Oh, no doubt. Add the year. I wish they could stay all four years to tell you the truth. But it's a person's constitutional right to work anywhere at the age of 18. But at the same, some of these kids aren't mentally ready to perform at a professional level. Physically, yes. They draft these kids on potential, long term and I'm sure that the benefits of having a head start are there. But also, there are some adverse affects from coming into the League early. Being around these 30 and 40 year old men, who have kids their age, you know. You start gravitating towards the habits of an adult when you're not even quite an adult yet. So, a lot of these kids get exposed to a lot at an early age and they're not mentally ready to digest those things therefore, they tend to make bad decisions at an early age. Which in turn, will have an effect on their career, whether it be negative or positive. So, I feel like it's the social environment that they're missing out on. Not just the literacy skills and the education that you receive in the classroom that would allow you to communicate. But outside of the classroom, there's a social life that you're exposed to which is a huge part of your development. So I'm a huge fan of kids staying in school because they're missing out on benefits they won't get in the NBA.
Kevin Burke: Was leaving school early even talked about at all when you were in college at Georgetown?
Alonzo Mourning: I thought about it after my junior year but I knew I would be the first from my family to graduate from college and that alone was just as important to me as playing in the NBA. So staying that extra year was the right thing to do. And I'll tell you, I was so ready for the next level after graduating that I hit the ground running, and that contributed to my NBA success because I was so seasoned as a college player that it definitely had tremendous benefits in my rookie season. It had me ready to go. That speaks to Tim Duncan and Patrick Ewing and all the other individuals that stayed for four years. Three or four years makes a tremendous difference. You know, Michael Jordan stayed three years. It's amazing what that extra year will do for you.
Kevin Burke: Very well said. Now let's talk some current-day NBA and your former team, the Miami Heat. Do you feel like this is a must-win year for them in light of how it ended last season, or do you think they are in just as a good a position to win next year if it doesn't happen for them this year?
Alonzo Mourning: Everybody wants to win every year. So, as far as a must-win, everybody looks at every year as a must-win. You have to build an organization around winning. If anybody has a mind-set that's different from that, you have to replace your front-office people. Because, that's what it's all about in the NBA: winning. Pat Riley has always been about winning. Micky Arison has always been about investing to win. So yes, they want to win right now.
Kevin Burke: You and I discussed the state of the big man in the NBA before and you told me that Centers want to be Guards. They want to handle the ball and shoot. Because of that, the general consensus is that the two best Centers in the League are Andrew Bynum and Dwight Howard and for the first time, there's a debate over which is better. Which do you think is better?
Alonzo Mourning: I don't think you can go wrong with either one of them right now. I think they have similar games, to tell you the truth. But if I had to build my team around a Center right now it would be Dwight because he's so dominant. But both those guys have the size and talent to carry a team, so either one.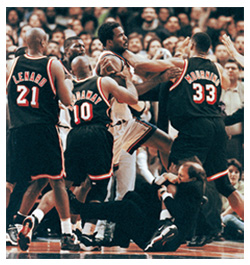 Kevin Burke: Lastly, Zo, a quick game of word association. Tell me the first thing that comes to your mind. Jeff Van Gundy.
Alonzo Mourning: (Laughs) Come on man, that's a no-brainer. I think of him being attached to my leg.
Kevin Burke: Larry Johnson.
Alonzo Mourning: Well, I think of that situation too. I think of the fight at the Garden.
Kevin Burke: New York Knicks.
Alonzo Mourning: Oh, wow. A lot of words come to my mind, brother. I don't think you can write any of those words that are going through my mind (Laughs).
Kevin Burke: Fair enough. Thanks for the time, Alonzo.
Alonzo Mourning: My pleasure, take care.
If you're looking for your everyday, predictable basketball talk, then go somewhere else, because Kevin Burke of The Kevin Burke Project brings provocative, thought provoking content about basketball as only he can. Kevin also hosts The Hoop Doctors weekly podcast show, which you can subscribe to for free on iTunes. Follow Kevin on Twitter and Facebook