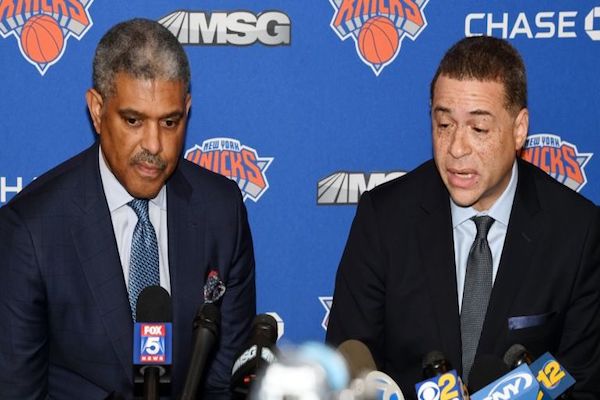 The New York Knicks have added Golden State Warriors assistant Mike Brown to their list of head coaching candidates.
And now they're officially ready to hire Jeff Hornacek's replacement.
From ESPN.com's Adrian Wojnarowski:
After talking with Golden State Warriors assistant Mike Brown, the New York Knicks have completed interviews for the franchise's head-coaching job, and team officials are huddling to reach a consensus on the hiring of a candidate, league sources told ESPN.

The Knicks hope to hire a new coach this week, sources said.
This brings the Knicks' total of candidates interviewed to 10. Brown joins Mike Budenholzer, David Blatt, Kenny Smith, Mark Jackson, Juwan Howard, James Borrego, Mike Woodson, Jay Larranaga and Jerry Stackhouse.
Said list represents a wide array of possibilities, from established names to up and coming coaching prospects, to old school minds and newer modes of thought. The Knicks, being the Knicks, will be criticized for their decision either way. Budenholzer, formerly of the Atlanta Hawks, and Borrego, an assistant with the San Antonio Spurs, are probably the only options that won't draw far-flung ire. Stackhouse, the head coach for the Toronto Raptors' G-League team, could be thrown into there as well.
Whoever the Knicks hire, their style should say a lot about the team's direction. The front office maintains they're rebuilding, but rolling with someone like Woodson, Jackson or maybe even Budenholzer could suggest they're looking to accelerate their timeline.
Brown specifically is an interesting choice. His last two head-coaching gigs, with the Cleveland Cavaliers and Los Angeles Lakers, have gone very well. But perception of his style has changed around the league during his time under Steve Kerr with the Warriors. The culture he would implement might be similar to that one. This assumes, though, that he gets the job. And we cannot be sure he or anyone else will. The Knicks have uncharacteristically done a nice job of keeping their favorites for the position under wraps.