January 30, 2012 – Kevin Burke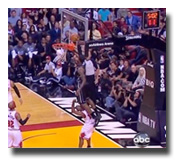 Most basketball fans remember where they were during the Sydney Olympics of 2000. In particular, they remember their location when they saw Vince Carter hurdle 7'2″ Frederick Weis. It seemed like something that Carter should've been banned from Olympic play for based on the sheer enjoyable disrespect in which he displayed. That will forever arguably be the best dunks of all time.
Last night, LeBron tried his best Vince impersonation as his Heat hosted the Bulls. In the first half, LeBron was the recipient of a Wade alley-oop pass, but standing in the way was John Lucas. Poor John Lucas. Granted, Lucas isn't 7'2″. He's only 5'11" so Carter has the edge there. But then again, he did it while catching an alley-oop which makes it just as impressive. Poor John Lucas.
If you're looking for your everyday, predictable basketball talk, then go somewhere else, because Kevin Burke of The Kevin Burke Project brings provocative, thought provoking content about basketball as only he can. Kevin also hosts The Hoop Doctors weekly podcast show, which you can subscribe to for free on iTunes. Follow Kevin on Twitter and Facebook