September 20, 2011 – Allen Moll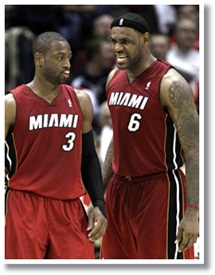 Not to worry, the dynamic duo consisting of Dwyane Wade and Lebron James' year-long honeymoon is not over on South Beach. In fact it's just the opposite.
Despite the rather uninspiring method in which the Heat lost to the Dallas Mavericks in the 2011 NBA Finals, Wade and James remain fierce friends and are as determined as ever to win a title together in Miami.
Notice I didn't include Chris Bosh, making it the "Big 3" as they were originally referred to. Bosh's play last season more than proved that Wade and Lebron are the two studs on the Heat roster.
Anyways, Dwyane Wade obviously chose to add to the recent trend of ribbing Lebron about his ever receding hairline by posting some friendly jabs at his high scoring teammate on Twitter.
The intense scrutiny over Lebron's hair, or lack there of, obviously was getting to the former 2 time MVP as he was seen in a recent pic, sporting a shaved melon.
To his credit, Lebron didn't just take the lighthearted ribbing from his teammate personally but rather chose to poke fun at Wade's rather large feet.
Check out Wade vs Lebron on Twitter: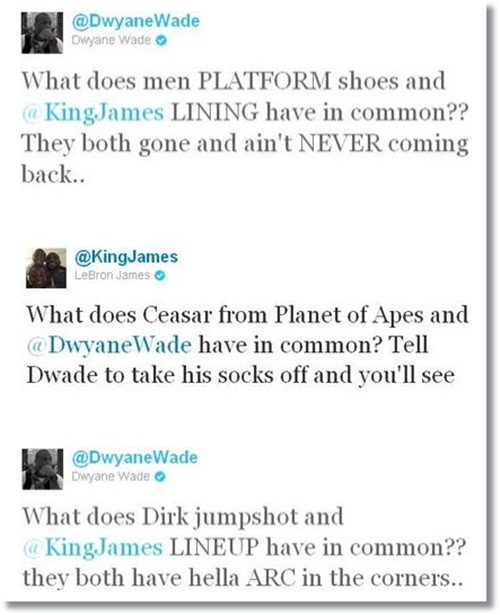 Allen Moll has been a lifelong NBA and NCAA College Basketball fan who watches and studies games religiously, and coaches youth basketball in his native Lehigh Valley region of Pennsylvania.  Allen also provides content to Bleacherreport.com, Upperdeckblog.com, in addition to being a tenured NBA and NCAA columnist for TheHoopDoctors.com.