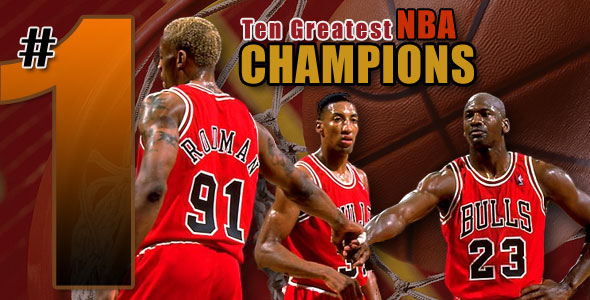 September 14, 2009 – Allen Moll
Allen Moll is an avid NBA and College Basketball fan who watches and studies games religiously and coaches youth basketball in his native Lehigh Valley region of Pennsylvania. Allen is a regular columnist for thehoopdoctors.com, Bleacherreport.com, Fanhuddle.com as a NY Knicks and Wizards correspondent, and his own blog, Hoops Haven.
With this season's NBA Finals behind us, I decided to take a look back and rank the greatest NBA Championship teams in the modern era(post 1980). This will be a ten part series with a new entry each week. Which teams had the most dominating seasons and playoff runs in the last 30 years? How would they stack up against each other? Which teams had the most Hall of Fame players or coaches? The rankings were limited to two teams per franchise in the top ten. Let the debate begin.
Starting Lineup: Ron Harper, Michael Jordan, Scottie Pippen, Dennis Rodman, Luc Longely
Impact Bench Players: Steve Kerr, Toni Kukoc, Jason Caffey, Randy Brown, Bill Wennington
Regular Season Record: 72 – 10 Playoff Record: 15 – 3 Finals: Beat Supersonics 4 – 2
Individual Awards: Jordan – Reg Season MVP, Finals MVP, All-Star, All Star Game MVP, All NBA 1st Team, All NBA Defense 1st Team, Scoring Champion Pippen – All-Star, All NBA 1st Team, All NBA Defense 1st Team Rodman – All NBA Defense 1st Team, Rebounding Champion Kukoc – 6th Man of Year Coach Jackson – Coach of Year
#1 – '95-'96 Chicago Bulls
After realizing he wasn't cut out for professional baseball, Jordan returned to the Bulls late in the '95 season. Scottie Pippen and Toni Kukoc welcomed MJ back in hopes of another Bull run to their 4th NBA Title. It wasn't to be as the Orlando Magic, led by Shaq O'Neal and Anfernee Hardaway, knocked the Bulls out of the playoffs in the semi-finals.
Not used to losing, Jordan and the Bulls organization reshaped their lineup and trained aggressively to once again get back to the NBA mountaintop. Bulls management sent Will Perdue to San Antonio for 4 time rebounding champ with baggage, Dennis Rodman, in hopes of replacing Horace Grant, who had been the rebounding and low post defender for previous Bulls championship teams. Free agent Ron Harper was signed to help guide the offense in a similar role to BJ Armstrong, who was picked up in the expansion draft. Steve Kerr was now their 3 point specialist, and Bill Wennington provided spot up jumpers and frontcourt defense.
The '95-'96 NBA season was set up to be the comeback tour for Michael Jordan, and he didn't disappoint. The Bulls started the year going 41-3 before losing back to back games, which was their biggest and only losing streak, riding numerous double digit winning streaks, finishing 72-10, the best regular season record in history. Chicago swept most regular season awards, led by Jordan(30.4 ppg), Pippen(19.4 ppg), Rodman(14.9 rebs), and Kukoc(13.1 ppg). They finished #1 in both points scored and points allowed.
The Bulls in the playoffs, were just as dominating. They swept the Miami Heat(3-0) in the 1st round by more than 18 ppg. They then bested the Patrick Ewing led NY Knicks(4-1), and blew out Orlando by more than 25 ppg in the Eastern Finals(4-0), avenging last season's defeat. This set up a Finals matchup against the Gary Payton and Shawn Kemp led Seattle Supersonics, who won 64 games and got by Sacramento, defending champ Houston, and Utah to get to the Finals for the first time since '79.
Although Seattle was a great team and had only 8 less wins than Chicago during the regular season, Jordan and the Bulls were heavily favored. The Sonics proved worthy opponents in Game 1 by trailing Chicago by only 2 points late into the 3rd quarter before the Bulls defense took over, holding Seattle to 5 of 18 shooting, and pulled away for the win, 107-90. Chicago was led by Jordan(28 pts), Pippen(21 pts), and Kukoc(18 pts) off the bench. In Game 2, the Bulls were led by Rodman's 20 rebounds(11 offensive which is still a Finals record) and Kukoc, who after a scolding by Jordan, totaled 29 pts, 6 rebs, and 8 assists in a 92-88 win. Moving to Seattle for Game 3, the Bulls played probably their best game in the series, led by Jordan(36 pts), Luc Longely(19 pts), Kukoc(14 pts, 7 rebs, 7 assists), and Pippen(12 pts, 8rebs) in blowing out the Sonics 108-86. Seattle finally got back into the series in Game 4, winning 107-86. Their win was a total team effort led by Kemp(25 pts, 11 rebs), Payton(21 pts, 11 ast), and Hersey Hawkins(18 pts). The series got even closer(3-2) after Seattle won Game 5, 89-78. Payton(23 pts) did his best to slow down Jordan, limiting him to only 9 pts in the second half. Dennis Rodman led the Bulls in Game 6, with 19 rebounds, 9 pts, and 5 assists and was his usual self defensively, drawing numerous personal fouls on Kemp, bringing the United Center crowd to their feet, as the Bulls won 87-75. The win gave the Bulls their 4th NBA Title out of 6, over 8 seasons. Jordan became the first player to win Finals MVP for the 4th time. This team could very well be the best defensive team of all time.
The Bulls '95-'96 season forever sets the bar for other teams. Phil Jackson after the win was right when he stated, "We have established a new level of play, and it is something all teams will have to chase."
Series Conclusion
Which team is the Greatest NBA Champion in the modern era? The debate will always rage on whether Larry's Celtics were better than Magic's Lakers, or Michael's Bulls were better than Dr. J's Sixers. In my opinion, a team with a dominant big man like Kareem, or Moses may have had a chance against the Bulls, since center was their one weakness, as either Bill Cartwright or Luc Longely manned the middle for their 6 titles. But would the backcourt play of Jordan and Pippen prove to be to athletic and dominating defensively against Magic, Worthy, Bird, or Erving? I assume that most arguments would have the '84-'85 Lakers ranked higher than #8, but the numbers and playoff record put up by the '00-'01 Lakers has me placing the Kobe-Shaq led three-peat team higher. It was also tough to keep off one of the back to back Houston Rockets teams led by Hakeem Olajuwon in the mid 90's but I think most would agree that the Bulls may have won 8 straight titles if MJ didn't retire. Thus the '95-'96 Bulls are my choice for Greatest NBA Champion in the modern era.
Game 6 footage of Bulls – Sonics: