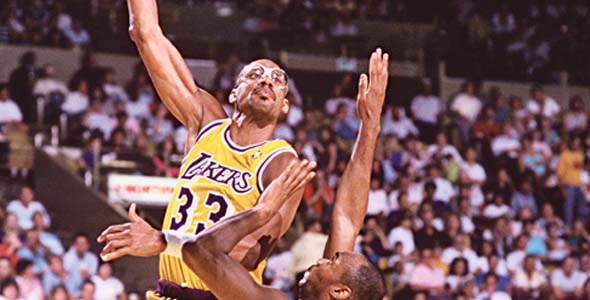 September 12, 2009 – R.S. De France
R.S. De France is a College and University instructor of English Composition. He has a B.A. in English and an M.A. in Rhetoric, Composition, and Writing. One of his life-long pursuits has been writing and covering anything related to sports, specifically the NBA. Recently, De France, his wife, and another colleague started an internationally read magazine at Shwibly.com.
This month marks the anniversary of the discovery of California by Portuguese navigator Juan Rodriguez Cabrillo in 1542. As a California native myself, I started recalling the best NBA players to have been born, discovered, played college ball, and/or played for the NBA in California (CA). To be considered, a player must have: won, set records, and still be popular.
10. Reggie Miller—Miller was born in Riverside, CA. He was a UCLA product. In 2000, he made his only trip to the NBA Finals. He is the NBA's all-time leader in three point field goals made with 2,560. When the pressure was on him, it became known as "Miller Time." He finished 2nd in UCLA scoring behind Kareem Abdul-Jabbar. He was an Olympic gold medalist 1996. Career 18.2 ppg.
9. Paul Pierce—The truth is he was born in Oakland, CA and attended Inglewood High School near Los Angeles before being drafted by the Boston Celtics where he would eventually win his first title in '08. He holds records for most consecutive free throws made in the playoffs (21) and most free throws made in one quarter of the NBA Finals (10). Career 22.9 ppg.
8. Rick Barry—Barry played for the San Francisco Warriors, the Oakland Oaks (ABA), and eventually returned to the Golden State Warriors to win the NBA crown in '75. For a short time, he held the record for most consecutive free throws made. Career 24.8 ppg.
7. Jason Kidd—Born in San Francisco, Kidd went to school in the bay area, and attended U.C. Berkeley. He had two failed trips to the NBA Finals (losing to the Lakers and Spurs in consecutive years while playing for the New Jersey Nets). Kidd was an Olympic gold medalist in 2000 and 2008. As a pro, Kidd is 56-0 in USA Basketball (including exhibition games). He is 3rd all-time in triple-doubles (103). He is 2nd all-time in playoff triple-doubles (to Larry Bird). Also, Kidd is 3rd all-time in Assists. Career 13.8 ppg, 9.2 apg, and 6.7 rpg.
6. Bill Walton—Born in La Mesa, California, Walton attended UCLA where he helped win two consecutive national titles for Coach John Wooden. He was also part of the fabled UCLA team that won 88 games in a row, going 30-0 in two seasons. In the NBA, the "Big Red" won the title with Portland in '77 as the star, and won again with Boston in '85 as the sixth man. Career 13.3 ppg and 10.5 rpg.
5. Jerry West—West played his entire career with the Los Angeles Lakers, winning his only title in 1972. He still holds the record for most points averaged during a playoff series, 46.3. And, only recent Hall of Fame inductee Michael Jordan managed to average more points in the post-season. West was also Co-captain of the 1960 Olympic gold medal team. Career 27 ppg.
4. Kobe Bryant—Although drafted by the Charlotte Hornets, the Lakers nabbed Bryant in a draft-day trade for center Vlade Divac. Since then, he has played his entire career in Los Angeles. He holds the record for the second-most points ever scored in an NBA game with 81. By the end of his ridiculous 2006 season that included the 81, Bryant finished with the most points scored by a Laker in a single season. In 2008, he won an Olympic gold medal. Bryant has 4 titles, a three-peat from 00' to '02 and another ring in '09. Career 25.1 ppg.
3. Wilt Chamberlain—Chamberlain only won 1 title with Los Angeles in 1972 with teammate Jerry West (his only other title coming as a member of the Philadelphia 76ers). Chamberlain was the NBA Finals MVP for the Lakers that season. In a single season ('61-'62) he averaged 50.4 points and 25.7 rebounds. He was the only player to average 40 and 50 ppg in a season, and he scored a record 100 points in a single game. He also holds the record for most rebounds in a game with 55. Career 30.1 ppg and 22.9 rpg.
2. Magic Johnson—As a rookie, he was drafted by the Los Angeles Lakers, with whom he played his entire career. That season, he blended with Kareem Abdul-Jabbar on their way to his Magic's first NBA title. In game 6, Magic memorably filled in for Jabbar at center, finishing with 42 points, 15 rebounds, and 7 assists. In his career, Magic won 5 titles in 8 trips to the NBA Finals. Magic, despite retiring after contracting HIV in 1991, won an Olympic gold medal in 1992 with fellow Hall of Fame players Michael Jordan, Larry Bird, John Stockton, and David Robinson on the fabled USA "Dream Team." He still holds a tied record for most assists in a playoff game (24). Additionally, he holds the All-star assist records, both for most assists in a game (22) and most total assists (127). Magic is 2nd all-time in triple-doubles and 4th all-time in total assists. Career 19.5 ppg and 11.2 apg.
1. Kareem Abdul-Jabbar—He won three consecutive NCAA championships at UCLA under Coach John Wooden, finishing with an 88-2 college record. Jabbar still holds numerous all-time records at UCLA, including all-time points and scoring average. In his NBA career, Jabbar won 6 titles, one with Milwaukee in '76, and 5 with the L.A. Lakers. He played 14 of his 20 seasons with the Lakers. He holds six all-time records, including most total points. Career 24.6 ppg, 11.2 rpg, and 2.6 bpg.
Nods:
Raymond Lewis—L.A. street ball legend; regarded as one of the best basketball products from Los Angeles never to go to the NBA. Although he never played in NBA, Lewis dropped 56 points (in 3 quarters) on the Showtime Lakers' defensive specialist Michael Cooper in a 1983 summer pro league. Later, he also scored 81 points in another game where he competed against NBA players. His legend lives on as he died at 48 from complications after his leg was amputated (raymondlewis.com).
Tayshuan Prince—good defender and NBA champion in 2004.
Gilbert Arenas—good clutch shooter.
Not to be Forgotten: Other NBA Players Born in California
Tyson Chandler
Andre Miller
Richard Jefferson
Drew Gooden
Bruce Bowen (3 NBA championships)
Kyle Korver
Jordan Farmer (1 NBA championship)
Other UCLA Greats
Gail Goodrich (1 NBA championship)
Baron Davis