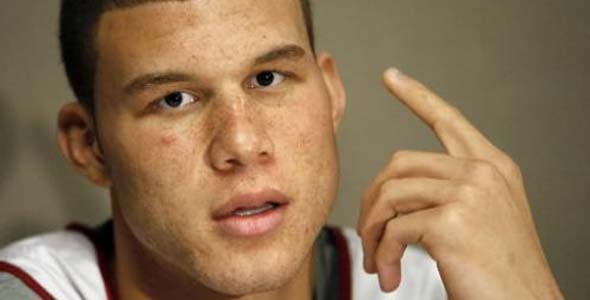 September 14, 2009 – Matt Anaya
Matt graduated from Southern Illinois University at Carbondale in May of 2007 majoring in TV Production. Matt is currently a writer at StaticMultimedia.com, TheBleacherReport.com, NationalSportsNation.com, SportsMixed.com, FanFever.com, Filmcatcher.com, 2 Much Swag, and TheHoopDoctors.com. Matt will provide you with insightful wit and an eager eye for sports.
1. Blake Griffin
The obvious number one pick will likely win the 2010 Rookie of the Year Award and do so in runaway fashion. Griffin might be a role player this year but will put up solid numbers across the board and he will solidify and injury plagued frontcourt. It is highly unlikely Griffin will move from the top spot all season long.
2. James Harden
James Harden is percentage points ahead of Tyreke Evans and that is because he is more mature and will not turn the ball over as much. Harden has a defined role on the Thunder and he is a perfect compliment to "veterans" Kevin Durant, Russell Westbrook, and Jeff Green.
3. Tyreke Evans
Tyreke was drafted as a PG but now I am hearing he will only play PG in an emergency. Evans played PG out of necessity last season at Memphis and his decision-making was shoddy as he averaged 4 apg and 3.6 turnovers per game. The Kings have a plan for Evans and he is beast of a combo guard so he should produce right away.
4. Terrence Williams
Williams has a chance to come in and produce right away, as the Nets are a team building for the future and the summer of 2010. Williams is a versatile G/F and he will find minutes playing both positions. Bobby Simmons and Jarvis Hayes will not be ahead of him on the depth chart and you can expect Williams to be apart of the Nets future.
5. Brandon Jennings
Three months after the draft it still boggles my mind that Jonny Flynn was taken ahead of Brandon Jennings. BJ is very talented and can do a lot of things offensively but he will likely backup Luke Ridnour. By season's end look for Ridnour and Jennings to be splitting minutes, as this is Jennings' team starting in 2011.
6. Stephen Curry
This might be a little high for Curry since he is in Golden State and nobody hates rookies more than Coach Nelson. Curry should average over 20 mpg but the Warriors are over loaded with guards, especially veteran guards, and that will hurt Curry's production. He will likely have an inconsistent season but look for him to put up 30 points a couple times this season.
7. Earl Clark
Due to his versatility Earl Clark should be able to step in and contribute right away. Clark will see more than a few starts this season and is versatile 6'10" Forward that can play both SF and some PF. He will see a lot of minutes for the Suns especially when they starting trading their assets.
8. Gerald Henderson
Head Coach Larry Brown does not like typical rookies but that is because they refuse to defend and lack maturity. Gerald Henderson is an atypical rookie as he can defend almost anyone and he understands the game more than our average rookie. Although Raja Bell will start most of the games, Gerald will still produce in his rookie season.
9. Jonny Flynn
A few weeks ago Jonny Flynn was near the top of this list as he was supposed to step in and contribute right away. But as of September 9 his role was greatly diminished as the Wolves will likely sign Ramon Sessions and they traded for backup PG Antonio Daniels. Flynn and Daniels will likely split backup duties and Sessions should average over 30 mpg, this was not a good week for Flynn's production.
10. Jordan Hill
Jordan Hill will battle for minutes all season long but the Knicks will not be a good team and Hill should see an increase in minutes as the season progresses. Only David Lee and possibly Darko Milicic are ahead of him on the depth chart and the athletic big man should have a solid rookie season.