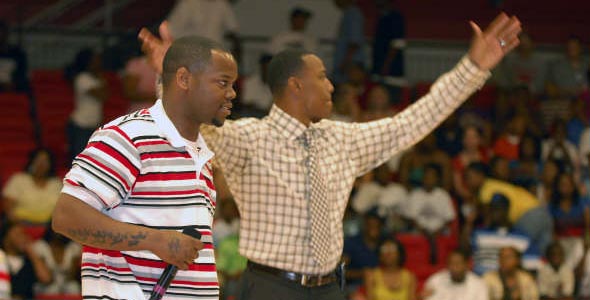 July 3, 2009 – Dr. Anklesnap
Hip-Hop Music and Basketball are one unto the other. Since I was just a young player full of dreams of playing hoops in the NBA, I had Kurtis Blow rhymin' from my stereo about Bas-ket-ball. Since then, pretty much all the best MC's have at one time or another made reference to a player, a move, a team, or the game in general in a track they've laid down. Whether it was Biggie, Pac, Jayz, Nas, or any other hip-hop star, they've all served to make the connection between hip-hop music and basketball even stronger through their lyrics.
Well when William, aka 'Mr. Wicked', who is Washington Wizards star Caron Butler's childhood friend from Racine, WI, reached out to The Hoop Doctors to help him spread the message from his track Hoop Dreams (which is based on Caron Butler's struggle comin' up to make it to the NBA), we felt more than obliged to let our readers know about the song. But don't get me wrong, we wouldn't be featuring the song if it wasn't a great track to inspire. To hear Mr. Wicked talk about his inspiration for making the song he'll say:
I would tell Caron "NBA" everyday when I would see him in the hallways of Washington Park High School. I never missed a day, because I knew he was more than capable of getting there. To live and see him make it this far inspired me to write this song and he has blessed me with his love and support. I do a lot of community work with Caron Butler during the off season to keep kids off the streets. We know how much hip-hop gets such a bad rap a lot of times in the world of sports, so with the help of Caron Butler and Damian Bass (Asst. Dir of Game Operations) for the Washington Wizards I present the song "Hoop Dreams".
The song is amazing, if you want to hear it over and over, just head over to the myspace page set up with 'Hoop Dreams' playing in the background. You can read all about Caron's life and the things he does in the community. It also has a link to Mr. Wicked's music page.
I've included a little video clip of Caron Butler and Mr. Wicked training in the Wizards weight room, while using the Hoop Dreams track as continued inspiration: