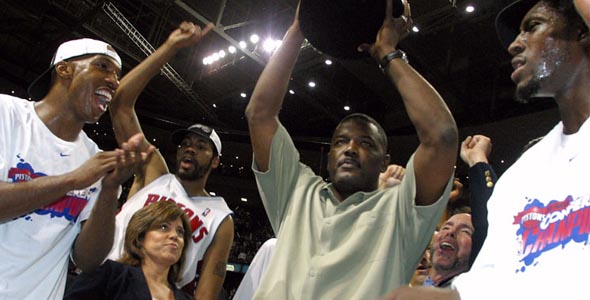 July 3, 2009 – Ryan Desmarais
Ryan Desmarais is a senior at the University of New Hampshire at Manchester, where he will receive his BA in English in December 2009. He currently resides in Manchester, NH.
The Detroit Pistons have been arguably one of the top two or three franchises in the NBA this decade. They've made six trips to the Eastern Conference Finals, two trips to the NBA Finals and they raised the trophy and the banner in 2004. The architect of the Eastern Conference's model franchise, Joe Dumars, built the team around a core group of players that included Chauncey Billups, Richard Hamilton, Tayshaun Prince and Rasheed Wallace. However, the 2003 Executive of the Year decided to shake things up two games into the 2008-2009 season by trading Mr. Big Shot to Denver for Allen Iverson. The move proved to be an utter failure for a team that had recently rebuilt a tradition of winning. The Pistons fought all season long just to make the postseason, while controversy surrounded Iverson the entire time. New head coach Michael Curry originally decided to place Iverson in the starting lineup and have the incumbent Hamilton as the sixth man, a move Hamilton objected to. After falling out of the playoff picture and having Iverson injure his back, Hamilton was placed back into the starting lineup. By the time the roller coaster ride was over, Iverson was gone due to his injuries and the Pistons were routed in the playoffs, swept by the Cavaliers in the first round.
Many saw the Billups-Iverson deal as a financial move more than anything else. Iverson's contract would be up after the season as well as Rasheed Wallace's. This would clear up cap space for Detroit to go after some big-name free agents both this offseason and the 2010 offseason, causing some Pistons fans to have dreams of LBJ or Wade wearing Piston blue. So with all this money and a decent, young core to build around, the Pistons were primed to catapult themselves into the Eastern Conference elite once again.
So on the first day of free agency, they make their first huge free agent splash by signing…Ben Gordon and Charlie Villanueva?
Dumars found success in building a consistent contender by bringing guys in that could do a little bit of everything. Wallace was able to play both down low and extend out to the perimeter. He could also play pretty good post defense and wasn't afraid to get his nose dirty. Prince is a tremendous defender whose length allows him to challenge many shots. He also had an above-average inside-outside game. Hamilton is one of the game's best mid-range shooters and seems to never get tired. Billups was the team's leader and one of the best decision makers in the league. Plus, as his nickname dictates, he was never afraid to take a clutch shot. When the Pistons were in their prime, they were one of the best defensive teams in the NBA.
Gordon and Villanueva aren't intangible players. Both are shot-happy guys who wish there could be two or three balls on the court at once. Gordon is a pure scorer, and that's about it. He doesn't pass or rebound and he doesn't have great decision-making abilities. And while Villanueva, at 6'11", is a guy who can extend the floor because of his ability to shoot from deep, he's not a guy who's going to get down low and make the gritty, blue-collar plays. Plus, neither guy has any desire to play a speck of defense.
And last time I checked, Dumars already had a shooting guard, one of the most consistent shooting guards in the league. So what does he do with Rip? Hamilton just signed a 3-year extension in November that will keep him in Motown until at least 2012, possibly 2013. Does this mean that Dumars' new $60-million investment is going to be his new sixth man? Has he already forgotten the issues that occurred this past season? It's not a matter of if some sort of controversy arises, it's when.
Plus, Detroit still doesn't have a big man to replace Rasheed. Villanueva's big, but if the Pistons ask him to play center and match up with the big boys in the East, he's going to get killed. The free agent big men that are out there now are mostly backups, which is not what Detroit is looking for. Unless Dumars has more moves in store, can Piston fans really see their team contending with Kwame Brown as their starting big? Let the cringing from Piston fans commence.
Dumars obviously knows how to build a team. He proven his worth as an executive throughout the decade and he still had the pieces to bring Detroit back to prominence. But these recent moves, combined with the upgrades that the new elite teams in the East are making, will keep the Pistons a mediocre team at best for the foreseeable future.