For ten bucks, a slurpee, and a bag of Lay's Stax
---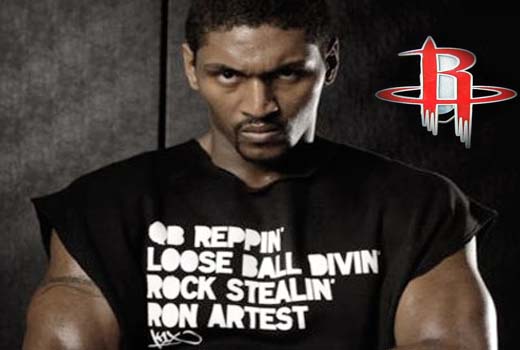 July 29, 2008 – Dr. Anklesnap
So let the laughter out. That's right let out a good hearty laugh. I was in the middle of drinking a five alive when I read the news. Liquid came out of my nose. It hurt. Are you kidding me? In yet another ridiculous and unbelievably lopsided trade, the Sacramento Kings decided to move defensive specialist Ron Artest to the Houston Rockets for a solid bench player, the draft rights to Donte Greene, and a cool million in cash. Now just so I don't sound too judgemental here, it should be noted that Bobby Jackson has a $6 million dollar salary that is set to come off the books at the end of next year. That is a strong asset to have for a future trade, or to use to give yourself some cap space to sign a bigger name free agent.
But this still seems so strange. Ever since the Pau Gasol trade to the Lakers, it seems like there are a bunch of GM's in the league trying to "one up" their competitors to see who can pull off the stupidest trade imaginable. Ron Artest is young, athletic, a past defensive player of the year, a solid scorer, and a real difference maker. He is the type of guy you want to go to battle with in a playoff series, and fortunately for the Rockets when you combine his toughness and defense with the offense of Tracy McGrady and Yao Ming, we will all undoubtedly have the chance to see that. Even the Petrie boys who shipped him.
The most confusing thing for me may not even be the ultimate trading of Artest. Heck we all saw it coming, after he wavered on whether or not he should have opted out of his contract, then demanded a trade, then took it back and said he wanted to stay….blah blah blah. Just another day in the life of Ron Artest. And it was obvious the Petrie brothers had enough. But after the blogosphere was set alive with the whispers of an Artest to Nuggets deal for Nene or Kleiza, then a Lakers deal for Lamar Odom, then an Artest to Mavericks deal for Stackhouse and Bass, all seemingly legit with upside for both teams, we are left with this…..Artest to the Rockets for squat.
I apologize B-Jax I love your game, and I am sure the fans in Sacramento will be happy to see you back in a Kings uniform, but you are not fooling anyone on this trade. The jig is up. This one is already written off by this Doc as one of the most lopsided and ridiculous trades of the off-season. Okay Mark Warkenstein from the Nuggets who moved Camby to the Clippers is off the hook. The new bone heads in town are the Petrie boys.
Okay Kings fans out there, what do you think about the move? Happy to see the puppy abuser leaving town? Happy with your return on investment?