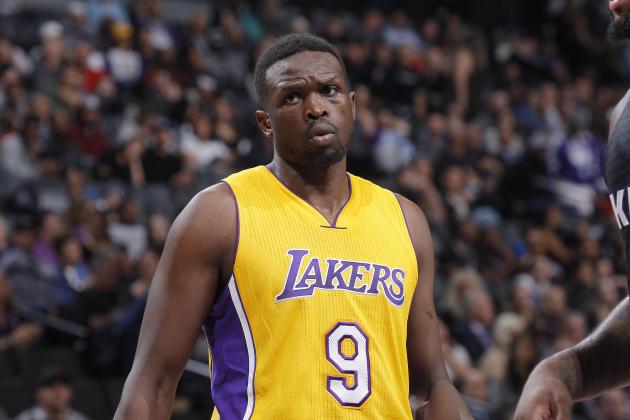 It is pretty amazing how quickly the Lakers have turned their roster and roster flexibility around considering they handed out two of the worst contracts in NBA history in the summer of 2016, paying Timofey Mozgov $64 million over four years and Luol Deng $72 million over four years.
They were able to get off of Mozgov's contract last summer by dealing their former No. 2 pick De'Angelo Russell to the Nets and they have officially parted ways with Deng as of this weekend. The crazy part is a few short years ago, Deng who is still relatively young would have been a guy to bet on with most sportsbooks.
Sources: The Los Angeles Lakers and forward Luol Deng are finalizing a contract buyout as part of waive-and-stretch provision.

— Shams Charania (@ShamsCharania) September 1, 2018
Luol Deng played a total of 13 minutes in one appearance last season and had zero chance of cracking the rotation this season with LeBron James, Brandon Ingram, Kyle Kuzma and Michael Beasley in front of him.
Deng is due $36.8 million over the next two seasons and by enacting the stretch provision, The Lakers will pay Deng over the next five seasons seasons starting in 2019-20.
This tweet from former NBA executive Bobby Marks breaks down the benefit of this move for the Lakers…
Before the stretch provision, Los Angeles was projecting to have $25M in room for next season. That number will increase to the $36-38M range once the Deng buyout/stretch is completed. The Lakers once again will have room for a max player next summer.

— Bobby Marks (@BobbyMarks42) September 1, 2018
This officially opens the door for a Kawhi Leonard to sign next summer.
Luol Deng at age 33 may still have a little in the tank although he had the worst season of his career in his first year with the Lakers, I see him getting a minimum deal and an opportunity to play a limited role for a playoff caliber team.