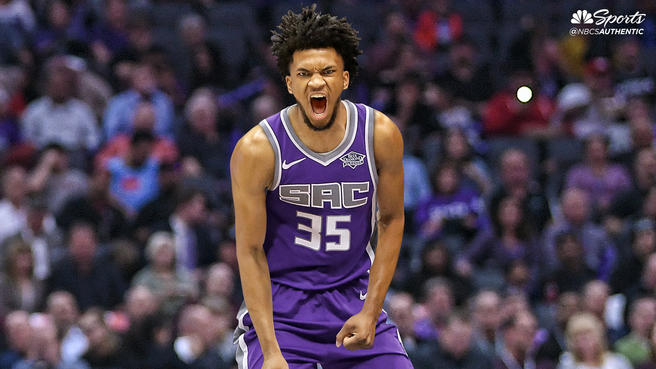 The Sacramento Kings were gifted by the NBA gods on lottery night as they moved up from the No. 7 spot to the No. 2 pick in the 2018 NBA Draft.
They decided to draft ACC Player of the Year and Duke standout power forward Marvin Bagley with the No. 2 pick of the 2018 NBA Draft on Thursday night.
Bagley joins a young core of De'Aaron Fox, Bogdan Bogdanovic, Buddy Hield, Skal LaBissierre, Willie-Cauley Stein and Harry Giles.
According to Sacramento Kings General Manager Vlade Divac that is a super team in the making, seriously…
When asked how the Kings can compete with the NBA's super teams, Vlade Divac said: "My team is a super team. Just young." And he made sure to point out the fact that the Kings beat the Warriors twice last season. @ABC10

— Lina Washington (@LWashingtonTV) June 22, 2018
Oh boy, the Kings are gonna King I suppose, I disagree with Divac on both points. There is no denying Bagley is a great talent and could even win rookie of the year as the featured guy in Sac-town next season, but I believe Doncic's incredibly rare feel for the game and ability to be an elite play-maker and ball handler made him the better choice at No. 2.
As for the idea of the Kings being a young super team…. I don't think so. This team was in dire need of talent previous to drafting Bagley and still is. They are still one of the least talented teams in the NBA and sorely need a small forward and generally more talent on the roster.
They were more than likely continue to inhabit their place in the NBA cellar next season, Bagley will provide some excitement though.