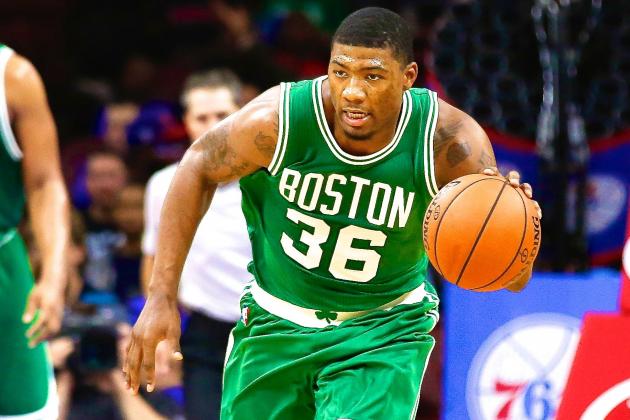 The Boston Celtics are limping into the 2018 NBA Playoffs as their three best guards will likely be out for their first round match-up.
Kyrie Irving and Gordon Hayward will be out for the entire postseason, but Marcus Smart is recovering from a hand injury (suffered by punching something after a game) and could be back for the Celtics in the playoffs.
Here is an update from Shams Charania of The Vertical:
Sources: Celtics guard Marcus Smart had reevaluation on torn right UCL Monday in New York and is expected to receive clearance to return to game action at six-week mark of surgery (April 27). Smart has been cleared to start light non-contact shooting.

— Shams Charania (@ShamsCharania) April 9, 2018
A return date of April 27 essentially means that Smart could in theory be back for a Game 7 in round one if the Celtics need it and would definitely be back for the 2nd round of the postseason if the Celtics were to get there.
Smart is invaluable to the Celtics as he is their best perimeter defender, the kind of bulldog that can easily guard a one through three and plays with more fire and energy than anyone on the team.
He is one of the most important if not the most important piece of the Celtics league-best defense and can affect a game in numerous ways even when his offense leaves something to be desired.
Smart is entering free agency and I doubt the Celtics will decide to be cautious with him upon his return. Once he is ready to go if they are still playing he will be on the court.