Adidas has unveiled the Dame 4, the fourth signature shoe for basketball star and hip-hop artist Damian Lillard.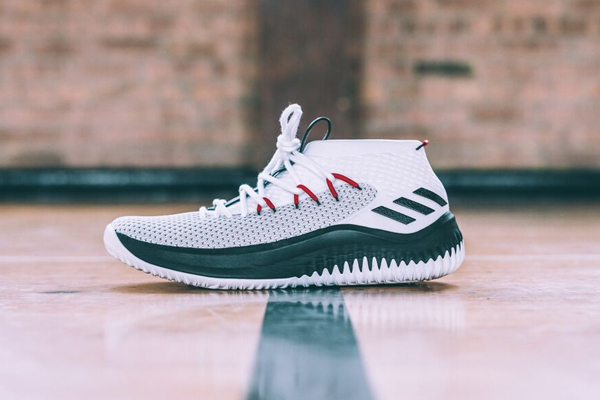 Designed to eliminate distractions, Dame 4 is rooted in all day comfort and versatility to support Dame's Oakland grit and relentless hustle. It's seamlessly designed with focus and function in mind, ensuring sock-like comfort and fastened stability so Dame can attack the opposition. A ventilated mesh upper increases airflow and maximizes breathability while the supportive lace cables reinforce fit, keeping the foot locked in.
Full-length BOUNCE cushioning provides ultimate court feel, superior comfort and versatility for movement in the game as you train. Designed with unique grooves for creating space against defenders, an evolved traction pattern is reworked as a nod to Dame's quick cuts and hard drives to the basket.
Full-length BOUNCE cushioning converges with the outsole, visually treated as a musical waveform that represents Dame D.O.L.L.A.'s passion for hip-hop. YKWTII is displayed on the heel as a message to all the doubters, reminding them "You Know What Time It Is" in reference to Dame's ability to takeover the game. DAME CERTIFIED is featured on the sockliner with the motto "Patience Persistence Purpose" to further exude Dame's unrelenting attitude.
Paying respect to Dame's journey from Oakland to Portland, Dame 4 captures Dame's most influential moments on the court with signature time stamps etched across the lace-band:
35.12 – Breakout game stats that put Damian on coaches' maps in high school
25.6.4 – Nation-leading stats that got Dame noticed during his final season at Weber State
6 – Selected as the No. 6 overall pick and averaged 19 points, 6.5 assists and 3.1 rebounds per game to earn 2013 Rookie of the Year
0.9 – With just .9 seconds remaining on the clock, Dame drained a game-winning three-pointer at the buzzer in 2014 and Dame Time was officially born
0 – 0% chance critics gave Dame on his journey from Oakland to Ogden to Oregon
Dame 4 launches October 4 for $115 on adidas.com and October 6 in store.