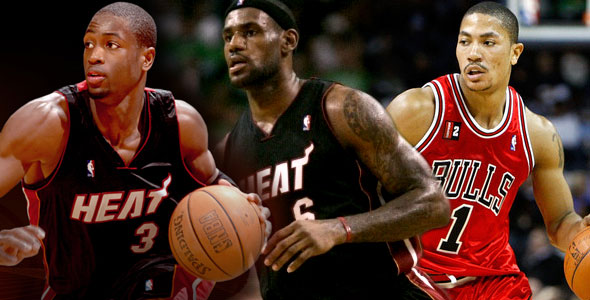 February 15, 2011 – Joshua Sexton
Yesterday we power ranked the members of the Western Conference All-Star team. Without further ado, here are the power rankings for the 2011 Eastern Conference All-Star team.

12. Al Horford: Horford is making his second straight All-Star appearance as a member of the Atlanta Hawks. Horford is one of the more underrated players in the league. He is currently shooting 57 % from the field. Being the twelfth man on an All-Star team is certainly nothing to sneeze at. However, this spot would have realistically went to Carlos Boozer or Joakim Noah had they not missed significant time nursing injuries.

11. Joe Johnson: Joe Johnson is quietly making his fifth All-Star appearance. Despite being one of the better wing players in the league, he often flies under the radar playing on a Hawks team that despite being the fourth seed in the Eastern Conference, often goes unnoticed having to share the conference with the Celtics, Heat, Bulls and Magic.

10. Ray Allen: Thursday night Allen broke Reggie Miller's record for career three-point shots made. This will be Allen's tenth All-Star game appearance. It will be interesting to see Allen and his Celtic teammates take the court together Sunday night.

9. Chris Bosh: Bosh has been playing better recently after a slow start to the season. When he plays well the Heat rarely lose. It will be interesting to see how Mr. Bosh (Ringo Starr) progresses as the Heatles get ready for the playoffs. Bosh is good, but at this point it is hard to rank him higher than KG, Amar'e or Dwight Howard.

8. Kevin Garnett: It seems almost criminal having KG this low in the power rankings. However, KG cannot intimidate father time the way he can his opponents. Although age has diminished his skill set, his passion and defensive intensity are critical for the Celtics' championship hopes just as much as anything. It's hard to believe this will be Garnett's 13th All-Star game.

7. Paul Pierce: This will be PP'S ninth All-Star game appearance. While Pierce does not have the the same natural abilities as some of his All-Star teammates, he certainly has proven himself in the playoffs. Not everyone on the Eastern Conference team can say the same thing.

6. Dwight Howard: Dwight Howard is the best defensive player in the league, and is certainly one of the top tier players the NBA has to offer. This will be Howard's fifth appearance in the mid-season classic. However, Howard is not the best post player on this year's All-Star team. That honor goes to a new Knickerbocker.

5. Amar'e Stoudemire: Amar'e is making his sixth All-Star appearance, and his first as a representative of the Eastern Conference. The Knicks are a long way from winning a championship, but Amar'e has put New York back on the basketball map. He is arguably playing the most spirited, motivated basketball of his career. Stoudemire is currently second in the league in scoring at 26 ppg.

4. Rajon Rondo: Rondo is making his second All-Star appearance. Rondo is not only one of the best point guards in the league, but he is one of the more cerebral players the league has seen in quite awhile.

3. Dwyane Wade: Wade has been a stalwart in the Eastern Conference Starting lineup for years. This will be Wade's seventh All-Star appearance, and his sixth as a starter. Wade took home MVP honors in last year's game in Dallas. Wade definitely has a shot to win back to back MVP awards.

2. Derrick Rose: Rose will be making his second All-Star appearance, and he will be the first Bull since Michael Jordan to be in the starting lineup of the All-Star Game. Right now, Rose is my pick for the MVP award. He has led the Bulls to a top record despite injuries to Boozer and Noah. For these reasons, he his ranked higher than D-Wade.
1. LeBron James: The leader of the Heatles will be making his seventh All-Star game appearance. It will be his first since taking his talents to South Beach. It will be interesting to see how the fans at Staples Center (the house that Kobe built) will respond to LeBron. However, whether he is a good guy or a Villain, there is no doubt he deserves to sit atop the power rankings.
Joshua Sexton is a lifelong basketball fanatic, who watches as many games as possible. In addition, He has played and coached the game at the high school level. He has recently started writing about the game of basketball.