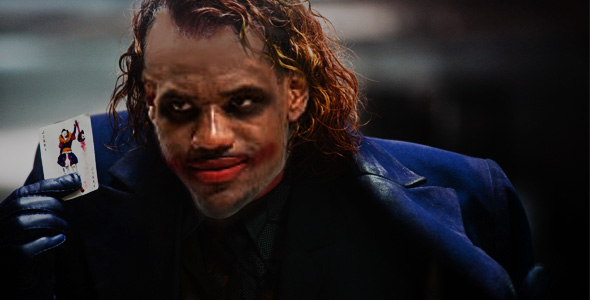 January 14, 2011 – Kevin Burke
In the history of entertainment, I don't think anyone has done a quicker 180, in terms of public perception, than LeBron James did this past summer. It all happened in the span of an hour. Up until 9:00pm Eastern Time on July 8 of last year, LeBron was probably the most adored, revered and marketable figure in all of entertainment. By 10:00pm Eastern Time that same night, he was anything but. It was the decision heard 'round the world.
Whether right, wrong or indifferent, he was immediately made out to be an arrogant, self-absorbed villain when he announced that he was headed to Miami. As a result, no matter which NBA arena the Heat visit on the road, they are showered with boos. Of course, none louder then when he made a return trip to Cleveland in December.
In my opinion, the overwhelming negative reaction that LeBron has received is overdone (see Dan Gilbert). Overdone and old at this point. I'm far from a LeBron apologist because although The Decision didn't bother me, he certainly made his mistakes this offseason, for which I called him out on.
LeBron has done nothing but make calculated (or miscalculated depending on how you look at it) moves since July, and is continuing to do so. In his latest move, he has decided to embrace the role as a villain. Following the Cavs' 112 – 57 loss to the Lakers a few nights ago, LeBron hopped on his twitter account tweeted the following:
Crazy. Karma is a b****. Gets you every time. It's not good to wish bad on anybody. God sees everything!"
It's obvious that was in reference to that lackluster performance by his former team and I'm sure it was largely directed to Dan Gilbert. I think he could've left God out of it, especially since he used profanity. Also, he should've tweeted that after the Heat beat the Cavs, not after another team beat them. It was miscalculated, but I get his point. He wanted to launch a verbal dart at Dan Gilbert and he did that.
But even before this happened, after being showered by boos in Portland in a game against the Blazers on Sunday, he was asked about the reception he received. "I've kind of accepted this villain role everyone has placed on me. I'm OK with it", said James. Perhaps it was out of frustration and in the heat of the moment. Regardless though, and as a result of those two incidents, he has officially become the villain that most have already made him out to be. I'm in the minority here, but I say good for him.