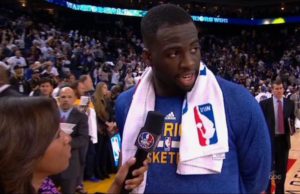 The conference finals have been somewhat highlighted by errant kicks and punches and Draymond Green and Dahntay Jones. A suspension was handed out for Jones, but will that be the case for Green?
Golden State's game 3 loss was very bad. How will they bounce back. And cause for concern in Cleveland after dropping game 3 on the road? Kevin Burke discusses in episode 171 of THD Podcast…
Please enable Javascript to watch this video
If you have a question that you would like answered by Kevin on a THD podcast, please send an email to [email protected].