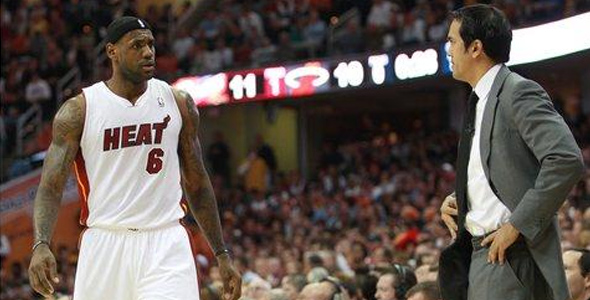 December 3, 2010 – Kevin Burke
Who else is glad that's over? LeBron James finally made his much anticipated return to Cleveland last night and all of a sudden it feels like the first day of the rest of our lives as basketball fans. It now means that the "What do you think about LeBron leaving Cleveland?" conversations are now rendered as antiquated as the "Can you believe what Tiger Woods did?" questions.
Although I was positive that the rowdy crowd wasn't going to impact his performance one bit, I did think that he'd be tense and nervous before the game, similar to how he was in Boston against the Celtics for the first game of the season. If you remember back to that game, when his name was called during the starting lineups, he walked through appearing emotionless ostensibly, no doubt overtaken by nerves, anxiousness and anxiety. Last night was a bit different. In the pregame shoot-around, he seemed just as relaxed as if he was still a member of the Cavaliers. He seemed very loose and that confirmed to me that he would have a good night.
Naturally, he was met with boos from probably every fan in the building during the starting lineups, while Zydrunas Ilgauskus received the loudest ovation. While I'm sure Cavs fans are grateful for all that Big Z brought to the team during his many years there, I don't necessarily think the applause he received was all for him. It was more to spite LeBron.
There was much talk leading up to the game about whether or not he would do his patented powder toss. I'm not at all surprised that he did it, because he always does. Why would he change now? I am however, surprised that someone related to the Cavs organization didn't tell someone else not to put the powder out so that he wouldn't even have the opportunity to do so.
When he hit his first shot, that was further confirmation that he was comfortable. I'm not exactly sure what this means, but he looked like a Cavalier again. He was just as animated as ever and he put on a Cav-like performance by scoring 38 points, while only playing 3 quarters. The last time LeBron played a game on that court was Game 5 of the Eastern Conference playoffs a year ago when he was heavily scrutinized for shooting 3 – 14 for 15 points and eventually was labeled a quitter for his performance that night.
Aside from the booing, which was expected of course, there was a "Akron hates you" chant that was repeated throughout the night, as well as a couple others that I couldn't quite make out. The cynic in me is disappointed that there wasn't a crazy outburst that was captured on TV. I know that there was heavy security around the Heat bench, but I can't believe I didn't at least see someone try to run onto the court or something like that. Not even Dan Gilbert did anything noteworthy. I guess towards the end of the game there were reports of batteries thrown in the general direction of the Heat bench, but I expected more (or less, depending on how you look at it) from Cavs fans. Yesterday, I put the over/under on fan ejections at 3.5. If I had to guess, I think it was under. What a let-down.  
The underachieving Heat may have turned the corner with this 118 – 90 win. LeBron is human, so he had to have been thinking about December 2 from the moment the season started. Now that he's gotten that out of his system, hopefully he can go back to simply being LeBron James where he'll just play his game, regardless of who's on his team, and let them adjust.
I liked the insight that the TNT crew provided before, during and after the game. I'm also surprised at how Charles Barkley seems so jovial towards LeBron. Before the game he playfully dared LeBron to do the powder-toss. I expected Chuck to lay into LeBron, but he did just the opposite. Reggie Miller is underrated as a color analyst and during the game when he told Cavs fans that "they need to get over it", I gained a little more respect for him.
Love him or hate him, you would be crazy not to at least be impressed with LeBron's performance last night. That was probably the most hostile environment that you could ever conjure up in your wildest imagination and he had his best game of the year by far. With the game well in hand, Erik Spoelstra made the right decision (no pun intended) and sat James for the entire 4th quarter, but he could easily could've dropped a double-nickel since he just came off a 10 – 12 shooting, 24 point 3rd quarter showing. The crowd seemed impressed too because the booing when he had the ball in his hands tapered off significantly as the game progressed.
During the game, Marvelous Albert said that the only player on the Cavs roster that still keeps in contact with LeBron is Daniel Gibson. I couldn't care less if the entire team is still best friends with him, but Gibson shouldn't have been as buddy-buddy with him during the game as he was. It made him look soft and I'm sure he's receiving backlash for that in Cleveland right now. As far as LeBron going down to the bench to talk to Gibson/other Cavs players during free throws, and looking at the Cavs bench after making shots, I have no problem with it because it surely didn't impact his play.
The Heat and Cavs actually play three more times this year, including one more in Cleveland, but it doesn't really matter now that this is over. Hopefully Cleveland moves on and things return to as close to normal as possible there.
If you're looking for your everyday, predictable basketball talk, then go somewhere else, because Kevin Burke of The Kevin Burke Project brings provocative, thought provoking content about basketball as only he can. Kevin also hosts The Hoop Doctors weekly podcast show, which you can subscribe to for free on iTunes. Follow Kevin on Twitter and Facebook