February 15, 2011 – Allen Moll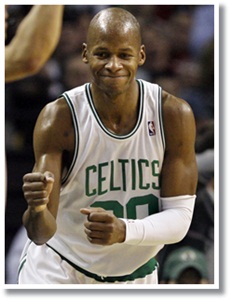 Just in case you missed it, Boston Celtics sharpshooter Ray Allen bested a historic milestone in a game against the LA Lakers last week by passing Reggie Miller to become the all-time NBA leader in 3 point shots made. If you watched it like I did, surely you'd agree that the now historic trey will undoubtedly go down as one of the shining moments in Allen's 15 year career……..and even at the ripe old age of 35, he shows no signs of slowing down.
It was also a touching moment as Reggie, in attendance to call the game for TNT, respectfully and graciously gave Allen a congratulatory hug once the play ended. The show of both admiration and respect between the two legendary 3 point marksmen got me thinking, who is the greatest long distance shooter in NBA history?
Since the NBA's adoption of the 3 point line back prior to the '79-'80 season, a number of players like Dale Ellis, Jason Kidd, Peja Sojakovic, Larry Bird, Steve Kerr, Glen Rice, and the aforementioned Allen and Miller, thrived from behind the arc and can lay claim as being some of the all time best gunslingers. Let's take a closer look at their career numbers and let the debate begin……..
By the numbers, here are the Top 5 based on 3 point shots made:
1) Ray Allen 2,562
2) Reggie Miller 2,560
3) Jason Kidd 1,754
4) Peja Stojakovic 1,719
5) Dale Ellis 1,719
next 3 active: Chauncey Billups 1,690, Rashard Lewis 1,667, and Jason Terry 1,599
By the numbers, here are the Top 5 based on 3 point percentage:
1) Steve Kerr .454%
2) Anthony Morrow .453%
3) Hubert Davis .440%
4) Jason Kapono .438%
5) Drazen Petrovic .437
It's interesting to note that only 2 of the Top 5 in 3 Pt FG Made have a career percentage above 40%. They are Dale Ellis, who sports a .403%, followed by Stojakovic(.400%), then Allen(.398%), Miller(.394%), and Kidd(.349%). When figuring out who's the best all-time shooter, a number of factors must come into play, like whether a performer was either a specialist or starter, length of career, and of course, accuracy.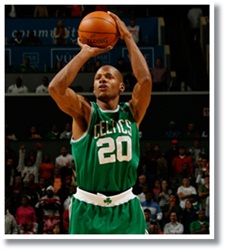 Some may argue that international sensation, Drazen Petrovic's career may have some day been on par with that of Miller or Allen's after such a scintillating beginning but he made 100+ threes only once as a starter, which doesn't even compare to Allen, who has made 100 threes in 14 of his 15 seasons for an unbelievable average of 175 per season, even hitting 200 makes in 5 seasons. Some will also say that not enough love is being shown for Larry Bird, who many consider as one of the game's best shooters period. But even though he has seemingly over and over made the "big shot" in his illustrious career, he shot a rather pedestrian .375% from behind the arc, ranking him just 99th all time and connected on just 649 treys, good for 130th all-time.
Reggie Miller has career marks of ranking 2nd in makes, 43rd in percentage, and had 14 seasons of 100+ made threes(including just 1 season of 200+). While Reggie may have made you remember his makes because of all his theatrics, it silences the argument to find out that Ray has consistently shot near 40% every season of his career, rather than sagging late and that he now holds records for most makes in a season, in a half, playoff game and series, Finals Game, All Star Game, and now for a career. Maybe the biggest stat that favors Allen is that he broke Miller's mark in nearly 300 less games with 50 fewer shots. The verdict is in. Ray Allen is the best long distance shooter of All-Time.
Check out a video of Ray Allen's historic treys to tie, then pass Reggie Miller:
Allen Moll has been a lifelong NBA and NCAA College Basketball fan who watches and studies games religiously, and coaches youth basketball in his native Lehigh Valley region of Pennsylvania.  Allen also provides content to Bleacherreport.com, Upperdeckblog.com, in addition to being a tenured NBA and NCAA columnist for TheHoopDoctors.com.