February 14, 2011 – Kevin Burke
After a quick trip to .500 land last week, the Knicks were able to get back above that dreaded line – albeit by just 1 game. And they were able to do so without Amar'e.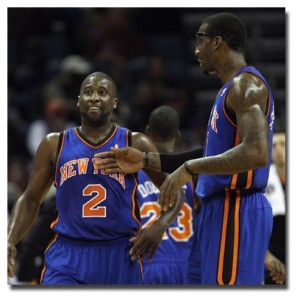 Housekeeping
Record: 27 – 26
Streak: W1
2nd place in Atlantic Division (Last week: 2nd place)
6th place in the Eastern Conference (Last week: 6th place)
2nd in overall scoring
29th in overall defense
Team Leaders
Points: Amar'e Stoudemire, 26.2
Rebounds: Amar'e Stoudemire, 8.6
Assists: Raymond Felton, 9.0
Steals: Raymond Felton, 1.8
Blocks: Amar'e Stoudemire, 2.2
Last week, the Knicks hosted the Clippers and Lakers, and took a short trip down the Jersey Turnpike to take on the Nets. If you missed it, we told you that I was at The Garden last Wednesday to take in the the Clipper game on behalf of The Hoop Doctors. In an effort not to be redundant, check out that post for what went down, but just know that the Knicks lost 118 – 106 and they didn't seem inspired. Amar'e was in foul trouble and when he was out, the offense looked stagnant. I've stated before that the only person I'd hold on to in a potential deal for 'Melo is Wilson Chandler, but the Clipper game showed where 'Melo would've helped. I'm changing my tune. If he is what ends up getting in the way…it's been real, Wilson. Don't get me wrong. If you've checked out these weekly Knicks updates, you'll know that I like Chandler's game alot but the Knicks absolutely cannot miss out on 'Melo (more on that later).
On Friday night, Kobe took his team to Manhattan as the onslaught of Los Angeles teams continued. This game was never in doubt for the Lakers. What made it bad for me was that I watched the game with two Knick haters, disguised as friends of mine, who constantly reminded me that the Knicks can't defend. Despite the beverages being consumed, I politely informed them that I was aware of that, as Kobe had 19 of the Lakers' 30 first quarter points. When Kobe got off to that start, I thought he was going to drop 61 again, like he did 2 years ago at MSG. But because he didn't even play in the fourth quarter, he ended up with 33.
In this game, Amar'e picked up his 14th technical foul which means if he gets 2 more, he'll be suspended for a game. Amar'e is more or less as mild-mannered guy and the only reason that he even has so many techs this year is because the league has that stupid mandate where the refs are to call as many techs as humanly possible. If this were a normal year, he wouldn't have nearly as many. This game brought them to .500 at 26 – 26. This was the first time they've been at .500 or worse since they were 9 – 9.
In the Laker game, Amar'e sustained a sprained toe and forced him to sit out the game against the Nets but the Knicks were able to score 105 in the win. That made me think back to the Clipper game where their offense stalled when he was out, but that's because the Clippers are a much better team than the Nets. Because of Amare's absense, the Knicks took a staggering 34 3s. Good thing they were able to connect on 16 of them.
'Melo trade rumors
OK, Carmelo isn't going to the Lakers. That's nonsense. You can bet money on that. I don't have "sources" feeding my information. I have common sense doing that. I truly believe that this was all conjured up by Denver in order to make the Knicks believe that they don't have as much leverage as they think they do. Carmelo has stated that he wants to play for the Knicks, so New York has been dragging their feet to get this done in an attempt to lower Denver's demands. He's not going to the Lakers. That's not a rumor. It's an ugly rumor. But with the deadline looming let's get this done, Donnie. Enough is enough. Figure it out.
If you're looking for your everyday, predictable basketball talk, then go somewhere else, because Kevin Burke of The Kevin Burke Project brings provocative, thought provoking content about basketball as only he can. Kevin also hosts The Hoop Doctors weekly podcast show, which you can subscribe to for free on iTunes. Follow Kevin on Twitter and Facebook