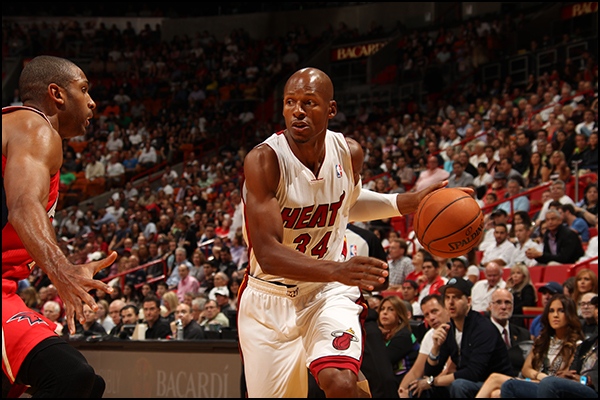 It feels like Ray Allen retired too soon in many ways. His final season, in 2013-14 with the Miami Heat, saw him play more than 26 minutes per game and drain 37.5 percent of his threes. When LeBron James left for the Cleveland Cavaliers, it seemed like only a matter of time before Allen followed him or ended up with another superpower like the Golden State State Warriors or San Antonio Spurs.
Rumors persisted, but nothing ever came of them. And then Allen retired. While appearing on ESPN's The Jump he explained why (via NESN.com's Adam London):
"Most of the inquiries I have received were how ready am I to accept my role as a veteran and sit on the bench and mentor the young guys," Allen said. "I'd love to do that, it comes naturally to me, but I do want to play. I want to be able to come on the floor and earn whatever minutes I may have gotten. I didn't know if that was possible, so I didn't want to be sitting on a team and say, 'What did I get myself into?'"
This is almost too hard to believe. Allen became more of a liability on defense as he aged, but he could still shoot the hell out of the ball, and there are worse defenders than he was in 2013-14 getting minutes in today's NBA.
Three years later, with Allen pushing 43, yeah, that's a role you ask him to assume. But surely a contender back then could have carved out 20-plus minutes a game for him as part of its game plan—a real game plan, and not a charity case.
Maybe Allen's demands for an active role were too high. If he was looking for 25 to 30 minutes a night, it would be tough to incorporate him consistently. Alas, we'll never know for sure. We just know he definitely had more to offer the game, but never got the chance or inclination is give it.