June 7, 2010 – Dr. Anklesnap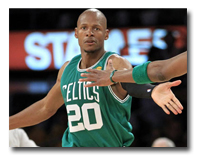 The Boston Celtics last night spoiled the LA Lakers perfect post-season home record this year by beating the Lake Show in the Staples Center. But that wasn't the only record that was broken in last nights instant classic match.
Celtics sharpshooter Ray Allen came out in the first half on fire from downtown. Realizing Allen is one of the greatest three point shooter's of all-time behind only Reggie Miller, it was still shocking to see the accuracy he was displaying in the first half. Ray Ray was 7 for 8 from behind the arc in the first half, breaking Michael Jordan's NBA finals record of 6 three pointers in one half from the 1992 Bulls-Portland series (video below).
But Ray Allen wasn't stopping there. Heading into the half he was tied with Kenny Smith and Scottie Pippen for the record of most three pointers made in an NBA Finals game. With just over 4 minutes remaining in the third quarter, Allen drilled an astounding 8th three pointer to set a new NBA Finals record. Although he didn't get as many clean looks in the second half due to a Lakers defensive adjustment, Allen's hot shooting definitely sparked the Celtics to a series tying win and shifted the series momentum in their favor as they head home to Boston with the home court advantage in the series.
Check out All of Ray Allen's Record Setting 3's:
Take a Trip Down Memory Lane for Jordan's then Record Six 3's Against Portland: