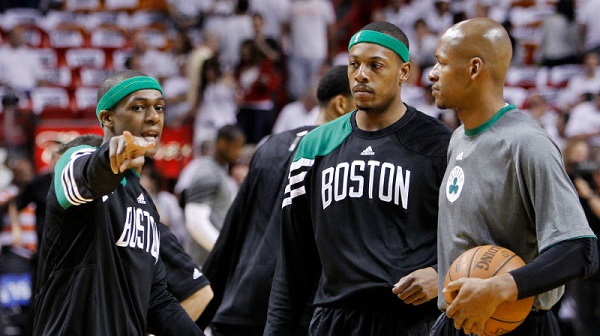 There have been many a story detailing the deep bond and connection that was formed with the core of the Boston Celtics of the late 2000s that won an NBA title in 2008 and were one win away from a second title in 2010.
Kevin Garnett, Paul Pierce, Ray Allen, Rajon Rondo and Kendrick Perkins formed the best starting line-up in the NBA in that era and became very close in the process, including the withstanding infamous text message group that still exists between them.
Because Rondo loves his former Boston brethren so much (and maybe because he needs to reminisce on the good days seeing as his NBA days seem numbered) he is planning a vacation to get the crew back together this off-season, only one member is not invited: Ray Allen.
As we all know, Ray Allen joined the Miami Heat, the arch nemesis of those Celtics teams, before the 2012-13 season, and apparently the stench of betrayal still hasn't worn off for Rondo as he doesn't want the trader in the group to be included on this special bonding trip.
Rajon Rondo speaks on why Ray Allen isn't invited to 10-year anniversary of Celtics' 2008 title. https://t.co/IKqD9jijaZ pic.twitter.com/i1Lo4Gyp9h

— theScore (@theScore) March 20, 2017
Here is an excerpt from what Rondo told Marc J. Spears of The Undefeated at ESPN of the trip and Ray Ray's exclusion:
"I asked a couple of the guys. I got a no, a no head shake," said Rondo to The Undefeated when asked why Allen wasn't invited.

"It will be a long story about that, but it is what it is," Rondo, who plays for the Chicago Bulls, told The Undefeated. "I don't know a good analogy to put this in. It just wasn't the greatest separation. It wasn't the greatest thing that could've happened to us as a team, a bond. We were at war with those guys [Miami]. To go with the enemy, that's unheard-of in sports. Well, it's not so unheard of. It's damn near common now.

"The mindset we had. The guys on our team. You wouldn't do anything like that. It makes you question that series in the Finals … Who were you for? You didn't bleed green. People think we had a messed-up relationship. It's not the greatest. But it's not just me. I called and reached out to a couple of other vets and asked them what they wanted to do with the situation. They told me to stick with what we got [without Allen]."
Is anybody really shocked that the personalities on those Boston teams would still actually hold a legitimate grudge about the situation? KG, Rondo and Kendrick Perkins could definitely be described as mercurial and obsessed with loyalty.
Garnett and Pierce in a way did the same thing a couple years later as KG waived his no trade clause to go to Brooklyn and have a better chance at another NBA title.
His former Celtics teammates will let bygones be bygones eventually, but honestly if I were Ray Allen I would be perfectly fine being excluded from this trip. I mean wouldn't you rather be on a European Yacht cruise with LeBron and Dwyane Wade or the infamous banana boat crew with LeBron, Wade, Chris Paul and Carmelo Anthony? I know I would.