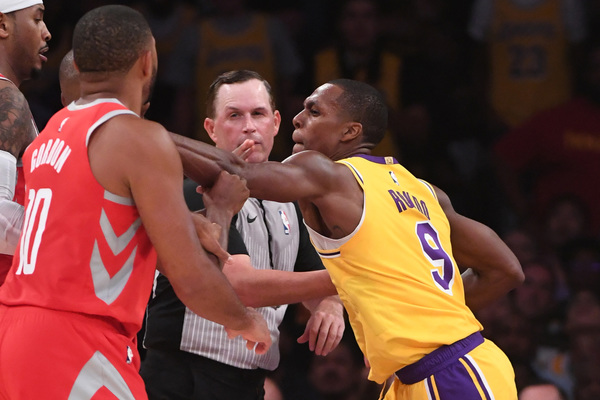 Spitgate apparently has another act left to roll out. The NBA suspended Brandon Ingram, Chris Paul and Rajon Rondo in the aftermath of a fourth-quarter scuffle during the Houston Rockets' victory over the Los Angeles Lakers. The soap opera should have ended there. It has not.
Players were always going to be asked about this incident. That was unavoidable. But this could have been shortly thereafter. Rondo has now made sure it won't be. Speaking with ESPN.com, he felt it necessary to comment on Paul's track record as a shitty teammate:
"Of course, the NBA went with [Paul's] side because I got three games and he got two," Rondo told ESPN. "Everyone wants to believe Chris Paul is a good guy. They don't know he's a horrible teammate. They don't know how he treats people. Look at what he did last year when he was in L.A.; trying to get to the Clippers' locker room. They don't want to believe he's capable of taunting and igniting an incident."
Rondo is not standing alone. Glen "Big Baby" Davis backed him up:
Big Baby chimes in ? pic.twitter.com/v1UG8ZBcp1

— Bleacher Report (@BleacherReport) October 23, 2018
As did Ryan Hollins:
Ryan Hollins played with Chris Paul for two seasons in the NBA. I asked Hollins what he thought of Paul as a teammate, given the recent negative comments from Rajon Rondo and Glen Davis.

"He has some growing to do," Hollins said of Paul. "Everything that glitters ain't gold." pic.twitter.com/OYWpM6LmXN

— Alex Kennedy (@AlexKennedyNBA) October 23, 2018
Look, technically, Rondo is correct. Paul has never been known as the best teammate. But Rondo is no beacon of amicability either. He's had his fair share of issues at just about every stop. New Orleans and, somewhat ironically, Sacramento were his only stays that went off with out a major hitch—and they only lasted one year. (It should be noted Rondo was suspended while with the Kings for lobbing anti-gay slurs at NBA referee Billy Kennedy.)
Really, this is all very stupid. Paul may not be the ideal running mate. That sometimes comes with the territory of star power. Look at what happened with LeBron James and Kyrie Irving in Cleveland. Look to what's happening between the Minnesota Timberwolves and Jimmy Butler right friggin' now.
In Paul's case, though, he's still a superstar playing near the peak of his powers. Rondo doesn't have that going for him.
Anyway, the Lakers and Rockets meet again on December 13. That should be fun.